Dave Zimmer Takes You Backstage
By: 4waysite.com
Date: March, 2007
Photos (most previously unpublished) and proof sheet strips: by Henry Diltz as well as Buzz Person and Dan Doyle
Dave Zimmer takes us backstage, in the studio and into the homes of CSNY, and provides a remarkable, authentic picture of life with CSNY in all their many forms. He can definitely be considered a CSNY insider. He is the author of "Crosby, Stills & Nash: The Biography" (with photographs by Henry Diltz), the editor of "4 Way Street, the Crosby, Stills, Nash & Young Reader" and he is a former editor of "BAM: The California Music Magazine".
He has also worked as a writer and communications executive for MCA Records, Universal Studios, Seagram and Vivendi. He currently is Director of Corporate Communications for Penguin Group in New York City. He has a B.A. in English/Writing from the University of California, Davis.
But he did not find his voice as a writer until he started writing articles about the guys in CSNY and other musicians. Dave has closely followed CSNY through the years, spent a great deal of time delving into their lives and can call them his friends. Dave currently lives with his wife and son in West Orange, New Jersey.
4WaySite asked him for an interview and he was happy to oblige.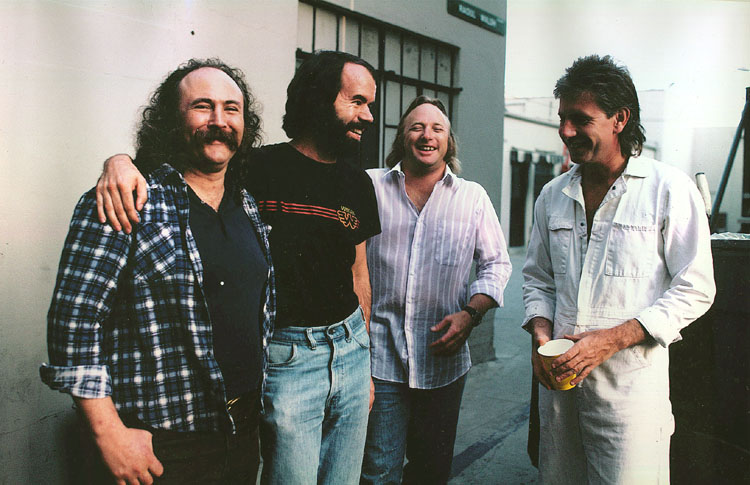 Crosby, Zimmer, Stills and Nash at Zoetrope Studios, Hollywood, July 1982. Previously unpublished photo by Henry Diltz.
ABOUT DAVE ZIMMER
4WS: In the process of preparing this interview, I asked a few people if they could think of a good question. The first to react was none other than Graham Nash. I am sorry if this first question is rather personal, but Mr. Nash would like us to ask you how your family is doing.
DZ: Graham… a man who has his priorities straight. He knows how important our families are and mine is doing very well, thanks.
4WS: Your last name appears to be of German origin. Are your roots German?
DZ: On my father's side, the roots are German and Swedish. My grandmother's maiden name was Lindgren. More Swedish and some Scottish come from my mother's side, Hansen. So my roots are a mixture of German, Swedish and Scottish. I have relatives in California, Idaho, Minnesota, Wisconsin and Nova Scotia, among many other places.
4WS: From 1979 to 1990 you were the editor of "BAM: The California Music Magazine." Why did you cease being the editor of BAM?
DZ: I left my job as the Los Angeles Editor of BAM in order to take a position as a staff writer for MCA Records in June of 1990. At that point, I must admit I had grown tired of going to the clubs to cover heavy metal bands at the Troubadour. I wrote a negative review of one band once and on the marquee one night was the message "Mad at Dave." That was pretty funny. I still loved the Thursday night showcase dates at the Roxy (where I spent memorable nights seeing Marianne Faithfull, the Smithereens, Marti Jones, among others).
4WS: Does the magazine still exist?
DZ: If memory serves, I think the last edition of BAM: the California Music Magazine was published in 1999. It was a great publication, founded in the San Francisco Bay Area in 1976 by Dennis Erokan. Over the years, the magazine featured a lot of outstanding interviews with mostly California-based artists, such as Jerry Garcia (and the rest of the Grateful Dead), Jefferson Starship, Tom Petty and, of course, David Crosby, Graham Nash, Stephen Stills and Neil Young. The first piece I ever wrote for the magazine was about Neil Young and the Ducks, his summer of 1977 Santa Cruz bar band. My first-ever BAM cover story was on Stephen Stills.
4WS: What did you do after that?
DZ: After being a staff writer for MCA Records for one year, I shifted over to corporate communications for MCA Universal. Lew Wasserman and Sid Sheinberg still ran the company, but then they sold a majority interest to Matsushita, who then sold the company to Seagram, who then sold it to Vivendi. I was on board for the whole ride. I was very lucky to be able to work on the Universal Studios Hollywood lot for ten years. It was like Emerald City in the land of Oz in the old days, with airplane hangar-like soundstages and a backlot filled with motion pictures being made virtually every day of the week. I worked in The Black Tower and used to have lunch at the studio commissary, where Mr. Wasserman used to sit at the same table everyday and have the same meal – Chinese Chicken Salad, with "papa's special sauce." One of the waitresses at the commissary who used to wait on Mr. Wasserman always referred to him as "papa." Hollywood royalty that I was lucky to be around.
4WS: Now, you work as a writer and communications executive. Can you tell me what exactly is meant by the term "communications executive"?
DZ : My tenure as a communications writer and executive (I use that last term very loosely) began at MCA in 1991 and continues to the present day. I have been involved in shaping the internal and external picture of a company's performance, from creating internal news publications and annual reports to writing press releases and performance profiles to producing employee/management events. I just finished work on Penguin Group's employee meetings – helping to write scripts and slides for senior management – that dominated my life for the last three weeks, Dolf.
4WS: Before we talk about CSNY, do you follow (beside Tom Petty, Chrissie Hynde, Robbie Robertson, Tom Waits, k.d. Lang, Todd Rundgren and Grace Slick) any other artists? Venice (Crosby's favourite vocal band he performed with as CPR in Amsterdam, July 2001) for example?
DZ: While I enjoy listening to Kip Lennon and Venice – wonderful harmonies and sense of song structures, I wouldn't say that I follow the activities and music of that band very closely. I DO still follow all of the work of Eric Clapton, Sheryl Crow, Roseanne Cash, Shawn Colvin and Bob Dylan, among a lot of other "veteran musicians," plus some new newer, younger artists such as Ryan Adams, Nickelcreek (thanks for turning me onto them, Croz), The Dixie Chicks and Norah Jones.
4WS: What is in your CD-player now?
DZ: Right now, today, Saturday? Shawn Colvin's "These Four Walls," America's "Here and Now," and a CD of the Stephen Stills King Biscuit Flower Hour concerts from 1975 and 1976. His versions of "Daylight Again/Find the Cost of Freedom" and "I Give, You Give Blind" on there still give me chills all these many years since hearing them for the first time.
4WS: This is a question I stole from Steve Silberman (contributing editor of Wired magazine and writer of the liner notes of Crosby's box set): "I have a question about the music that will allow you to flaunt your most subjective and personal judgement. If planet Earth was about to be sucked into a black hole, which ten songs, by any member of CSNY, solo or together, from any era, would you choose to save, and why?"
DZ: Well, Dolf, some of those songs that I picked when Steve asked me that question are still on that list. But there are also a few different ones. So here goes again.
"The Lee Shore" (Crosby, the CSNY version recorded at Stills' Studio City house in 1969, with the C&N vocals added in 1991) I picked the 4 Way Street version when Steve asked me the question, but I've since taken a shine to CSNY version … the four guys all in one room, playing together … love Stephen's lead guitar and Neil's acoustic runs as C&N sing like birds.)
"Wooden Ships" (Crosby/Stills/Kantner, the first CSN album version,
1969) (This is still in here … for the whole package … melody, harmonies, guitars … even
though Croz has admitted the "fantasy" of sailing away is not the
answer, the song never fails to provide comfort and warm chills)
"Lost Another One" (Nash, a live in-studio version done with Russ Kunkel on a radio show in Los Angeles) (I had "Another Sleep Song" in this slot previously; replaced it with this one, as Nash's moving thoughts about mortality are captured perfectly. I remember hearing what Nash is singing about, the news of Jerry Garcia passing away, on the morning of August 9th, 1995, as I was driving to a work appointment in the San Fernando Valley. Still miss you, Jerry.)
"Danger Bird" (Young, the Zuma version, 1975) (This still holds … for how the sensation of madness is captured vividly in every way imaginable, from the broken chards of Neil's Les Paul guitar rhythm, the chilling second guitar solo and the best "shakey" vocals of all-time throughout … the lead guitar style was echoed a couple of years later with The Ducks in Santa Cruz, particularly on a song by Jeff Blackburn called "Two Riders.")
"Cold, Cold World" (Stills, the Stills album version, 1975) (This song still holds, too … for the vulnerability of the vocals and lyrics, and the spine-zinging electric guitar.)
"Taken at All" (Nash/Crosby, the CSN box set version, 1976) (This one would have to be on there too … for capturing my fantasy of CSNY together in one room with two acoustic guitars, flowing harmony, crackling acoustic runs and words that capture real feelings I can relate to.)
"The Treasure" (Stills, Manassas, live in Amsterdam version in 1972) (The studio version of this song is cool, but I always felt the vocals were mixed too low. On this live version, Stephen sings above the guitars and adds even more emotion to his guitar solos … an emotional take on being alone but not giving up)
"You Don't Have to Cry" (Stills, first CSN album take, 1969) (I dropped "The Suite" to add this one in. Love this more than the demo of "In the Morning When You Rise" … it's great when Stephen taps his guitar top at one point … totally on top of his game as a guitarist at this point … and the CSN vocal blend … natural beauty.)
"Triad" (Crosby, 4 Way Street version, recorded in 1970, released in 1971) (This stays on the list, in the nine slot, for being the first song of David's I fell in love with, because of its wonderful acoustic guitar chords, vocals and wonderful counter-culture words that include the lines: "sister lovers … water brothers, and in time, maybe others/ So you see … what we can do … is to try something new — that is if you're crazy too — I don't really see … why can't we go on as three.")
"Ordinary People" (Young, live with the Blue Notes in 1988) (I bumped "Ohio" off to make room for this song that, criminally, has never been officially released, even though it is one of the five best songs Neil Young has ever written … the sobering picture Neil paints of modern society and the working class and the unemployed, paired with his crying guitar, talk/sung vocals and screaming Blue Notes horns is stunning. No song can follow this one. "Ordinary People" caps them all.)
4WS: Is it true you once played with Stills?
DZ: Well, Dolf, back in November of 1982, Henry Diltz and I were on the road with CSN. After a concert in Ames, Iowa, we travelled with Stephen on his personal tour bus, en route to St. Paul, Minnesota. When we got to the St. Paul Radisson Hotel, Stephen marched up to Henry's bunk and barked, "Fall out, Diltz!" A few minutes later, in his hotel room, Stills was doing Marine rifle drills with one of his prized acoustic guitars, the instrument twisting, flipping and turning, but never falling to the floor. In the next instant, Stills was sitting on the edge of his bed, ripping into a cover of the Rolling Stones' "The Last Time" on his Esquire electric, with Henry adding harmony. I plunked along some basic rhythm on a nylon string guitar that was around. Henry harmonized with Stephen on the Stones' "The Last Time" and a song of Stephen's, "In the Way." So while I technically "played" with Stills, it was brief and segued into him moving into solo songwriting mode. For about 90 minutes straight, he kept playing a set of changes that evolved into an interesting folk-rock vamp, to which he started singing the words … "Thinkin' 'bout love." About ten hours later … before the next show, Stills came up to me backstage and asked, "You remember what I was singing last night?" When I said, "You kept repeating the words, 'Thinkin' 'bout love." "That's it!" he barked. Then he ran off, guitar in hand, toward a shower stall and added some more to the song. I never asked him if he finished it. Never heard anything like it since. A lost gem, perhaps.
I played a couple of Crosby's guitars, too, once, back in 1980, at his old home in Mill Valley. Both were in the "Guinnevere" tuning [EBDGAD]. David didn't play with me, though. He just listened, nodded and smiled.
4WS: Do you play other musical instruments?
DZ: I played clarinet from ages 8 to 18. Then I traded my clarinet in for an El Degas acoustic guitar in 1973. One of my college roommates taught me the basics of guitar. He could play many of John Fahey and Leo Kottke's acoustic guitar instrumentals note perfect. So I learned how to finger-pick and flat-pick right away. One of the first songs I learned was Neil Young's "Tell Me Why." I eventually got a Martin D-35 and a Gibson Firebird electric. Sweet sounding instruments. They were both stolen out of my old Silverlake apartment in LA back in 1981, though. I now have a Seagull acoustic that I knock around on, playing CSNY and Jackson Browne songs. Wish I played more. I'm currently trying to teach myself to play piano and just yesterday plunked through Neil Young's "A Man Needs a Maid."
CSNY & Z…
4WS: How did you get involved with CSNY?
DZ: The first of the CSN guys I ever met and talked with was Stephen Stills. BAM magazine asked me if I wanted to interview Stephen and, of course, I immediately said, "Yes!" I flew down from the Bay Area to Los Angeles and took a rental car out to Stephen's old house in Bel Air on February 20, 1979. That interview is the one you're featuring here, Dolf. I still have the cassette tapes in my attic.
Later in 1979, October 11th to be exact, and again right before Christmas, I was given the opportunity to interview Graham Nash for BAM. I met Nash at the Hartmann and Goodman offices at the Crossroads of the World in Hollywood. I came armed with a binder filled with questions and Graham answered all of them. It was boarding a space ship and traveling back in time when Nash started talking about Laurel Canyon, the first CSN album, Joni and all the rest. That interview is in the book, 4 Way Street: The Crosby, Stills, Nash & Young Reader that I edited. But first, it was published in two parts in BAM.
A couple of months after the Nash articles were in BAM, I got a phone call out of the blue from David Crosby. He called to tell me how much he liked my Nash interview and that I could interview him any time I wanted. I ended up filling up about ten 90-minute cassette tapes over the next year and a half. I still have 'em. I drew the best of the comments from those interviews and put them in the Crosby, Stills & Nash biography I did with my friend, the great photographer and musician Henry Diltz.
4WS: How close are you to CSNY?
DZ: Well, I consider them friends and got to be pretty close to each of them in the 1980s. When I got married in 1990, I was very touched when CSN sent me and Claudia a beautiful floral arrangement and Stephen himself separately sent a desert plant in stunning South-Western vase. Since I moved from California to New Jersey in 2000, though, I'm not geographically close to them anymore. But I see them every time they tour through New Jersey / New York and I have the highest regard for each of them.
4WS: What was it like to be around such creative masters like CSNY?
DZ: It's always a thrill for me to be around these guys, because I love their music so much and find them to be interesting, intelligent and thoughtful. There's certainly an aura when they're all together, the three or the four of them. I've been lucky to spend time with each of them; and they've always been very kind and open to me. They don't wear their fame on their sleeves, that's for sure.
4WS: There are at least three different stories about where CSN sang together for the first time. Which one is correct: Cass Elliot's, Joni Mitchell's or John Sebastian's living room? Your theory, please…
DZ: My theory is that it was Joni's Laurel Canyon house. I think they probably hung out in Cass Elliot's kitchen and John Sebastian's living room, and may have eventually blended voices there. But, from talking to Croz, Nash, Stills and Joni … I think the first time was at Joni's place, which she described to me once so colourfully as "a little house, almost like a tree house. It was green, had a rural feeling to it, and was built into the side of a hill on Lookout Mountain Road. So when the trees spread out, the branches were right at the windows. Birds flew in and nested. It was a charmed little place, built by a black jazz piano player in the twenties as a weekend project. It had a soulfulness and was full of knotty pine, which was kind of our interior anthem at the time. That was hippie heaven, with a little rustic fireplace and a good feeling. Sometimes people would drop in singularly, or sometimes a group would congregate. There would be nights when everybody sat up and played acoustic music and swapped songs. Everyone was particularly fertile." I was able to see Joni's house once in 1982, when I interviewed producer Paul Rothchild, who was living there at the same. It felt like a magical place even then.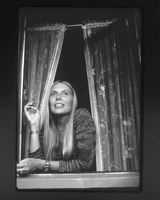 4WS: Does it happen to be the house in Nash's song "Our House"?
DZ: Yes, Dolf, Joni's house is the one celebrated in Graham's "Our House." He once told me: "The time that Joni and I were living together was really interesting, because I had left my band [The Hollies] successfully, I had left my country [England] successfully, I had been accepted here [Los Angeles, California], and I was feeling great. And Joni was feeling great, too; she had started to realize who she was and the fantastic work she was doing. She was painting and designing her second album cover, doing that self-portrait. And I remember being totally in awe of her. She'd go and make some supper and come down and we'd be eating, then she'd all of a sudden space out, go to the piano … to see her sit down and write "Rainy Night House" and all those other things was just mind blowing.
4WS: If time-travel were possible, would Laurel Canyon [Laurel Canyon found itself a nexus of counterculture activity and attitudes in the 1960s, becoming famous as home to many of L.A.'s top rock musicians], circa 1969, be high on your list of destinations?
DZ: Absolutely. Laurel Canyon, circa 1968-1969, would probably be #1 on my list. Just imagining it brings chills … particularly if I was there when CSN made their "Laurel Canyon Living Room" tour, going from house to house, guitars in hand, and playing many of the songs that would be on the first CSN album.
4WS: A new section of 4waysite.com is called "Behind the Songs" and is a matter of fact, far from finished. Is there a particular CSNY song that you are aware of, that has an interesting story?
DZ : I know many CSNY songs have interesting stories behind them. And I think your idea of devoting a section to 4waysite.com to this theme is great. Check out Stephen's comments about "For What It's Worth" in my interview with him. And, of course, there is the great story behind Nash's "Cathedral."
4WS: Yes, somewhere on the internet I found your interesting "Behind the Songs" story about Nash's "Cathedral". Can I borrow that?
DZ : Of course, Dolf. Absolutely.
4WS: There had been some tension between CSNY in the past. Did you ever feel like acting as a go between when tension arises?
DZ: No. While I may have been close to the action when tensions arose, it was between the guys and … they're grown men. They didn't need a go-between. And what friendship doesn't have its ups and downs sometimes?
4WS: How would you describe CSNY's internal relationships now and what role does each one of them have in CSN/Y? I mean Nash's role for example, should imply much more than "the glue that binds CSN/Y together".
DZ: I think they're basically good. Croz is still the group's rebel wild child, even though he's 65 years old! And he and Nash remain very close. Stills, once the obsessive, driven musician, now is more of a family man and less intense. Nash, who's been called CSN's Chief Operating Officer, has always been the "smoother-over-er," the diplomat who, frankly, has kept CSN rolling when it seemed like there might never be another record or tour. He helps Stills and Crosby work things out. And as for Neil, well … he's the wild card, the separate entity, who, though, is more an out-front leader in CSNY than he ever was before. Neil was clearly the quarterback on stage for the Freedom of Speech Tour.
4WS: The "4 Way Street: The Crosby, Stills, Nash & Young Reader" book (I will get back to this book later) contains an interview Ian D'Giff did with Crosby, and he asked him about the future of CSNY (the interview took place in March 2002), to which David responded: "You got me chief … CSNY is largely up to Neil. Neil, in popular terms, is bigger by himself than the three of us are. And we know that. But, CSNY is bigger than either, and he knows that". And Nash too, acknowledges in the above mentioned book that Young is the man in charge of things these days. It is a loosely guarded secret that Neil Young is the decision maker, also when it comes to CSNY tours and perhaps DVDs. How do you feel about this?
DZ: How I feel about it is … I think it's just the truth. Neil Young, by sheer creative and personal force, is, here in 2007, the guy who calls the shots when it comes to what CSNY does or does not do. As long as the music is being made, I'm fine with that. I just wish the process of getting products (CDs and DVDs) into the market did not take so long. Neil is a notorious perfectionist, even though he is also always wanting the music to sound "real and live."
4WS: What has changed with CSNY in, let's say, the last 35 years ago or is it (only) nostalgic?
DZ: If I understand your question, for me, the biggest change has been the band's ability to go out and just play as a group – more so now, than ever before. Even though the guys' hair is grey and some of the vocal notes (most especially Stills) are not reachable like they once were, they're still playing, in one form or another, even without a record out. I hope we see a CSNY live album and DVD from the '06 Freedom of Speech tour. It would be my dream come true if they also included a DVD of CSNY at the Fillmore East in 1970. The fragments in Neil's "Journey Through the Past" are just teasers. Let us see a whole show!
4WS: Let's talk about CSNY's acoustic side. What was their role in popularizing the concept of what we now know as the "unplugged" concept. I have a feeling it is underestimated.
DZ: I think CSNY's role in popularizing the "unplugged" concept has been underestimated because the acoustic style was at the heart of the group's original sound from the beginning. To me, the concept of "unplugged" implies hearing a band that was more known for its electric music (such as Nirvana, Aerosmith or the Rolling Stones) literally unplug the amps and play acoustic versions of electric songs. That said, the act of becoming "unplugged" is a process of artists wanting to capture the heart of what CSNY does better than any other group – play acoustic guitars with vocal harmonies.
4WS: Do you prefer a particular period in the history of CSNY?
DZ: I saw CSNY live for the first time in 1974, so I have a soft spot for that tour. But, in terms of vocal quality and the guitars resonating like they should (rather than acoustics with pick-ups being plugged into amps), my favourite period is probably 1969/1970. The wooden music (again it was truly WOODEN) and the electric sets were magnificent, and the urgency of their messages was so strong. But I felt that same level of urgency in 2006.
4WS: CSNY toured three times during the past seven years. Which tour do you prefer?
DZ : The 2006 Freedom of Speech Tour, no question.
4WS: Why?
DZ: While the CSNY2K and 2002 tour were solid, the 2006 tour was transcendent. Apart from the political nature of the songs, the guys were singing and playing with an intensity and fire that was staggering. I particularly loved hearing and seeing Stephen and Neil play "Treetop Flyer," Neil, Nash and Crosby do "Only Love Can Break Your Heart," and CSNY ignite a new, wonderfully funky "Long Time Gone."
4WS: Have you ever toured with CSNY?
DZ: Just CSN. Once for several dates along the 1982 "Daylight Again" tour.
4WS: Peter Gabriel's shows are being recorded and sold (via the internet) as "official bootlegs". Do you have any idea why CSNY haven't done this so far?
DZ: Crosby talked about doing it a few years ago, but, with CSNY, I'd be surprised if Neil would allow it. I think Crosby and Nash would be more willing to do it. Stills would probably want to tinker with the tracks if he heard any out-of-tune notes. So my sense is that, unfortunately, it will never happen officially with CSNY.
4WS: Is there a funny Dave Zimmer-CSN/Y story that comes to mind?
DZ: Well, this story does not involve me personally, except that I was in the room, in the studio, when Stephen Stills and Graham Nash were doing some final studio work on the 1982 Crosby, Stills & Nash album, Daylight Again, with long-time engineer Stanley Johnston at Devonshire Studios in Los Angeles. Stanley played back three different mixes of the album's opening track, a Stills song called "Turn Your Back on Love." Nash spoke up first: "I like the 'ahhhs' on the second one." Stills nodded. Then Stanley said, "What about our idea for 'The Wizard of Ahhhs?' Graham's got to play the Tin Man. We'd have to get Neil back to play the Scarecrow." Stills added: "Crosby'd be Dorothy," to which Nash said: "No, Crosby's the Cowardly Lion. You're Dorothy, Stephen." Stills glowered, rose from the mixing board, and announced in mock fury, "I am the Wizard!"
4WS: Do you have any favorite and/or prophetic quotes from CSNY?
DZ: One of my favourite quotes, told to me by Graham Nash in 1979, about CSNY and its audience in 1969/1970, follows: "The music was great. We were four mysterious individuals, we all looked totally different. We were like little folk heroes, in a way. We were doing it for everybody out there, for every musician that felt the way we did. When they saw us up there, they saw themselves. It was a very interesting thing that happened between the artist and the audience, a very close, symbiotic relationship." Those words could also apply to CSNY in 2006, amazingly enough.
4WS: In 1988 you already discussed the Grammy's with Neil Young (interview in BAM that is published in "4 Way Street, the Crosby, Stills, Nash & Young Reader"). Last year Neil Young was up for two Grammy nominations for "Prairie Wind" and this year he received 3 Grammy Awards nominations for "Living With War". Nominated for Best Rock Album, and "Lookin' For A Leader" was nominated for Best Rock Song and Best Solo Rock Vocal Performance."
But, he never received a Grammy Award. What do you think of this?
DZ: I'm OK with that, as I've never felt the Grammys were a true barometer of musical excellence. Also, I don't think the "Living With War" album and songs he was nominated for were not close to his best. Message-wise, I know they were deeply felt and expressed. But musically, they were not in the league of Neil's greatest songs. Croz even asked Neil about the relative sameness of the grooves on "LWW" and, according to Croz, Neil told him, "Yeah, well, I wasn't going to waste my best changes on George [Bush]!" But Neil just puts his music out there and keeps it coming. He'll probably get a Lifetime Achievement Grammy at some point. But if he doesn't, that doesn't make his career any less great.
4WS: Your focus is more on CSN than Neil Young. Is this correct?
DZ: Yes and no. As a biographer, I've written more about CSN than Neil Young. But that doesn't mean I don't hold Neil and his music in the highest regard. Also, if you saw my vinyl, CD and DVD collection, there's CSN, CSNY, C&N, Stills-Young and all of the solo stuff. It's all a part of the same musical family, as far as I'm concerned.
4WS: Is the "dark loner" image correct that Neil Young has been tagged with at various points in his career?
DZ: No. Neil can be *intense* but is not always the "dark loner." The times I've been around him and talked to him, he's been pretty up, smiling a lot and very engaging. He told Cameron Crowe in 1975: "The fact is I'm not that lone, laid-back figure with a guitar. I'm just not that way anymore. I don't want to feel like people expect me to be a certain way. Nobody expected Time Fades Away and I'm not sorry I put it out. I didn't need the money, I didn't need the fame. You gotta keep changing. Shirts, old ladies, whatever. I'd rather keep changing and lose a lot of people along the way. If that's the price, I'll pay it."
4WS: Back to touring. Both the CSN and C&N tours scheduled for 2007 have been cancelled. Why were the tours cancelled?
DZ : The only reason they were cancelled, as far as I know, is because of David Crosby's health problems – a combination of pneumonia and shoulder pain. David is really a "show must go on" kind of a guy, so it had to be serious. But I'm glad he didn't put his life at risk by going out on the road at this time. I know there are a lot of disappointed fans in Australia and the US, but I really believe, health-willing, that CSN and C&N will eventually make up as many of these dates as possible.
4WS: One of my favorite bands of the last ten years is CPR, but they have to struggle to fill clubs and sell their releases, which I think is a pity or even a shame. Do you know what the status of this great band is and isn't there a similarity to Manassas?
DZ: I must admit I don't have any inside information with regard to the status of CPR. It would be a real shame if we don't get to hear/see more live shows and CDs featuring David, Jeff, James and the rest of the guys in that band. Great sound, songs … some of my favorites of recent years. But, as you point out, and Croz himself has said, economics have been a problem – not enough people buy CPR CDs and they seldom get played on the radio; so I guess we'll see. At the very least, I would expect James Raymond to be a part of any non-CSNY projects Crosby engages in going forward. My favorite song on the Crosby-Nash double album is by James – "Lay Me Down." As for comparing CPR to Manassas … I don't know about that. To my ears, they're two very different bands. CPR is certainly versatile and includes top-flight musicians that can cover a lot of musical territory. And I love CPR. But Manassas, with Stephen Stills, Chris Hillman, Dallas Taylor, Fuzzy Samuels, Joe Lala, Al Perkins and Paul Harris, was like in a different realm and one of my favorite phases of Stephen's entire career, in terms of the songs he was writing, how he was playing his guitar and piano, the quality of his vocals and the level of support he had from all of the guys, particularly Hillman. Chris Hillman, one of the most underrated musicians there is, in my humble opinion, really helped Stephen explore the country aspects of his career in a very authentic and compelling way. And Manassas really rocked with a muscular, powerful, driving delivery, with that string of songs on side one of the double album as well as "The Treasure." And "Go Back Home," from his first album, never sounded better live than with Manassas. I was lucky to see Manassas live in Sacramento, California in October of 1973. It still ranks as one of my favorite rock concerts of all time. The only similarity between CPR and Manassas, from my perspective, is that they both suffered financially from lack of support from record companies and fans more interested in CSN or CSNY.
4WS: Crosby has outspoken ideas about the music industry. What is your attitude toward this issue?
DZ : I agree with David that the music industry is dysfunctional and more concerned about the bottom line financially than signing and presenting the most interesting creative talent. And while the people in charge of the major record companies are not like the original music guys, such as Ahmet Ertegun, Mo Ostin, Jack Holzman and Joe Smith, there still are some, like Doug Morris, who heads Universal Music Group, and Clive Davis, who have an ear for talent. That said, the music industry is driven by profits for its parent companies and, if those overall profits drop, artists get dropped or are under-supported. That's why musicians like Aimee Mann and Annie DiFranco started their own record labels.
4WS: CSNY seem to be good at expressing their feelings and opinions and are articulate. However, do they listen well?
DZ: That's a very good and interesting question, Dolf. I never really thought about it before, but based on my interactions with them, I would say, "Yes, they listen well." Stephen, in particular, even though his hearing has gotten worse in recent years, focuses hard on what you're saying and doesn't just offer pat responses. David may seem like he's distracted sometimes, but nothing gets past him. Graham is also very "there" when you're in his presence and really genuinely cares about what you're saying and how you're doing. Neil's kind of like David, where it seems like his mind is in constant motion, but he takes it all in, doesn't miss anything.
DAVE ZIMMER'S BOOKS
4WS: Moving into other territory and, to be honest, a question I have been asking myself for years: is it a restriction or an opportunity when writing an authorized book?
DZ: Another great question, Dolf. With regard to Crosby, Stills & Nash, I looked upon it as an opportunity, because I was looking to put a book out there that the guys would be happy to have on the market – not that I wanted to white-wash periods of their careers that were less then pleasant. But I was more interested in getting it *right.* In that sense, when I finished the manuscript in the fall of 1983, Graham flew me out to his house in Hawaii and we went over the book page by page and he made some valuable corrections (particularly with the Hollies section) and offered some fresh reflection elsewhere as he was reading what others had to say. Similarly, Stills read the manuscript very carefully and, in a number of instances, added whole new quotes typed out on Stephen Arthur Stills stationery. I got a call from him when he was finished reading and marking it up, met him in San Francisco, then went with him to UC Davis where he was playing a benefit concert solo. It was quite a night, and when I read over the manuscript the next day back in my old apartment in Oakland I noticed he didn't take anything out that hurt the book. He and Nash only helped the manuscript. David, at this time, was not in the best of shape and he didn't really go through the book before publication, but trusted me and knew I would not focus solely on his drug use. But I didn't gloss over what the turmoil that was happening in his life at that time. When he read the book after it was out, he called me up and thanked me for presenting a balanced point of view and, he said, looking at the whole picture and not making him seem like a bad guy because he was strung out. The fact that the book was authorized also helped me get to people like Joni Mitchell, John Sebastian, David Geffen, Ahmet Ertegun, Paul Rothchild and many others, who provided priceless quotes, particularly Joni, Ahmet and Sebastian, that I felt made the CSN biography a much more complete portrait – with, of course, the many great photographs by Henry Diltz and Joel Bernstein, and others, as well as the childhood photos I got from the guys really further enhancing the book.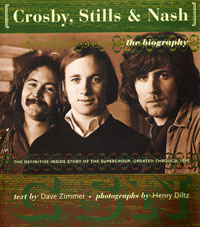 4WS: You wrote your first CSN biography "Crosby, Stills and Nash: The Authorized Biography" in 1984. What inspired you in 2000 to publish an updated version?
DZ : The inspiration to get an updated edition onto the market was the fact that the band's story did not stop in 1983/84. A lot happened in the intervening years up to 2000 and, as you know, the story continues to this day. That's why, and you heard it hear first, there will be yet another updated edition of the book out in 2008 – with new chapters and new photographs by Henry Diltz and other photos. More details in terms of specific timing when all of the elements of the deal are done.
4WS: Just curious: I have not been able to buy the 1984 book, but is it correct it features an overview of CSN bootlegs?
DZ: Yes, Dolf, you are correct. There was a small, selected list of vinyl bootleg recordings in the 1984 edition.
4WS: Why is this not included in the 2000 version?
DZ: The reason I deleted that information for the 2000 edition is that, in the intervening years, so many bootleg recordings had surfaced in digital form, it was impossible to present a list that was anywhere close to complete. There is a section of 4waysite.com that comes as close to being definitive as any list I have ever seen, though. But I'm not sorry a bootleg list is not in the 2000 edition. I never really wanted to support the concept of selling bootleg recordings. Trading tapes is one thing. Supporting black-market guys who profit off of illegal recordings is another thing.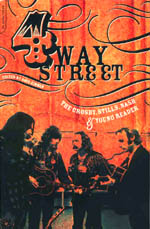 4WS: What purpose did you want to achieve with "4 Way Street: The Crosby, Stills, Nash & Young Reader"?
DZ : I wanted to create a permanent record of the best writings on Crosby, Stills, Nash & Young that I felt captured the essence of CSNY. I really wasn't certain I was going to be the one to do this book. I just knew I wanted to *read* it. While a lot of old and new articles on the guys were turning up on the Internet (including 4waysite.com) over the next couple of years, no one was stepping forward to try and do a book like the one I imagined. So in 2002, in the wake of CSNY's Tour of America, I decided to do it.
I wanted the book to stand as the definitive collection of writings on the CSNY gang. I can't objectively judge whether or not I reached that goal. But I was pleased when Nigel Williamson, a writer for Uncut magazine and author of several music books, including one on the stories behind Neil Young's songs, called 4 Way Street *the ultimate CSNY anthology.* Also, my valued friend John Einarson, the author of many great books, including ones on Neil Young and Buffalo Springfield, used the words *definitive collection* in his kind quote for the book jacket. So, if people I respect are using words of praise that centered my objective, I'm very happy.
Beyond that broad general goal, I wanted to make sure that 4 Way Street worked as a cohesive book rather than read like a hodge-podge of articles that were simply cobbled together. That's why I tried to keep the thread of CSNY going from beginning to end, so there would be a feeling of progression, a fluid narrative, with different voices that illuminated different parts of the band's legacy.
4WS: The last few years, there have been a good number of books with a similar format to "4 Way Street: The Crosby, Stills, Nash & Young Reader". Did you want to make it different and how?
DZ: Yes, when putting together the CSNY Reader, I wanted to make it different in a number of ways: 1) At least one photograph with each entry. So many Readers I own and have flipped through have few, if any, photos. And I've felt the volumes suffer because of that fact. So I was determined to collect as many quality images as I could to go along with the selections and will be eternally grateful to my photographer friends Henry Diltz, Joel Bernstein, Roger Barone, Buzz Person, Tony Bittick and others for contributing their great images. 2) No reviews. As stated previously, I think reviews in anthologies provide little insights into the artists themselves. And while sometimes interesting (or irritating), I just didn't want to bog down the flow of the book with a slew of reviews. 3) Go with the *best* pieces, even if it meant using several by the same author. Knowing that "4 Way Street" was probably going to be the only CSNY Reader ever published, I wanted to make sure it included what a considered the "Hall of Fame" pieces by Cameron Crowe, Ben Fong-Torres, Ellen Sander, Peter Knobler and others. I wasn't going to leave out works I thought were *essential*, nor was I going to add in a piece just because it was *obscure* if it did not measure up, in terms of quality and insight. 4) A killer cover. Though this was somewhat out of my hands and mostly in the hands of the Da Capo Press designer (George Restrepo), I wanted to make sure the cover of the book captured the feel of the group and the contents. I think the classic 1970 CSNY shot by Henry Diltz did just that, and I also was thrilled with the cover typeface selection and graphic elements. The only things I would have changed are the size of the type on the back cover (it seems at least one or two point sizes too small) and the size of the spine type — again, outside of "4 Way Street," the letters are way too small and hard to read. Had it been up to me, I would have used, in bold letters, C S N Y READER on the spine. Minor quibbles, though. In the end, I just hope 4 WAY STREET helps keep the spirit of CSNY alive and serves as a decent historical record of the group and the times.
4WS: Can you talk a little about the process that went into story selection?
DZ: The number of writings that I initially gathered together for "4 Way Street" totaled about 150. This included not only pieces that I had in my personal possession, but articles from Scott Oxman's CSNY Archives, pieces from UK publications that were found by my friend, Paul Higham, and writings that I discovered by visiting your 4waysite.com, site, Dolf, and Lorraine Kaczorowski and Ramiro Agredo's suitelorraine.com.
I then organized the writings by era and artist. I wanted to maintain a balance. I didn't want to weight the book too heavily toward one era or any one of the four artists. This process involved sitting up in my attic, surrounded by stacks of paper, trying different combinations and establishing a list of *essential* pieces.
Among the early "must include" writings were the following: an excerpt from Ellen Sander's book Trips: Rock Life in the Sixties; Ben Fong-Torres' 1969 story on CSNY and his *David Crosby: The Rolling Stone Interview* from 1970; Cameron Crowe's 1975 Rolling Stone Interview with Neil Young and his 1977 Rolling Stone article on CSN; Peter Knobler's 1977 Crawdaddy article on Stephen Stills; Lenny Kaye's 1970 article on CSNY that originally appeared in Circus; my fall 1979 Q & A interview with Graham Nash that was published in BAM in February of 1980; Roy Carr's 1972 New Music Express interview with David Geffen; The Sounds Talk-In with Neil Young and Stephen Stills by Allan McDougall and Penny Valentine from 1970. There were others. Those were the *essential* that come to mind.
4WS: What was the most difficult choice in choosing the articles that were printed?
DZ: The most difficult choices I had to make involved cutting out a wonderful Q & A conversation between David Crosby and Steve Silberman that was published in 1995 in Goldmine. As great as the piece is, however, I finally determined that such a small portion of it dealt with CSNY that it would throw the book's balance out of kilter. I made a similar kind of decision about a 1988 interview of mine with Neil Young . I cut the Q & A down from 35 to the eight questions and responses that dealt with CSNY – – which I now regret, I must admit. I wish the whole Neil Young interview was in there, because it will probably never be in another book now.
But had I had not adhered to the CSNY thread rule, it would have made the job of cutting down the selections almost impossible. But with that vision in mind, within three months I'd cut the number down to about 50 articles. I needed to get closer to 30. That's when my editor Ben Schafer helped me close in on that number … which was 31 pieces that ended up in the book.
4WS: Were there any "surprises" in the course of putting this book together? Anything you didn't expect in the process or maybe an article that got uncovered or something that had been kind of forgotten or overlooked?
DZ: Probably the biggest surprises, Dolf, were a couple of pieces that I didn't know existed until I started this project – particularly the Sounds "Talk In" from 1970 with Stephen Stills (interviewed by Allan McDougall) and Neil Young (interviewed by Penny Valentine), Vicki Wickham's "Graham Nash: We May Fight But the Music Wins" article and Lenny Kaye's "Crosby, Stills, Nash & Young: Flying Freely" commentary, with quotes from Ritchie Yorke's 1969 interviews. Fantastic stuff that my friend Scott Oxman had in his CSNY Archives collection.
4WS: This book only features two BAM interviews that were written by you. Why did you not include your extended 1979 interview with Stephen Stills that is now available on 4waysite.com?
DZ: For the same reason that Steve Silberman's Goldmine David Crosby interview is not in there: the Stills interview doesn't include much on CSNY and it would not have flowed well with the rest of the pieces. I had it in there for a while, but it just didn't work. I'm thrilled that you have it on your 4waysite.com now, though. Because I think Stephen made a number of interesting comments to me that day in 1979.
4WS: How co-operative were CSN on the publication of your books? I assume you cannot tell everything…
DZ: I must say they have always been very cooperative. Again, I think they understood early on that I wasn't out to screw around with them and they have always kept the access open. But I don't appreciate being called a sycophant. I don't avoid dealing with the down sides of their careers and lives. I just don't dwell on it. I've always tried to maintain a balanced perspective and I think they've appreciated that.
4WS: Beside the time in 1984 when Crosby called you, what do CSNY say about your books and has there been a reaction form other (famous) people who are mentioned in the books?
DZ: Not too much directly. Which is fine. On The Well online community, Crosby once said something to the effective that I was able to "untangle the hairball that is CSNY as well as anyone." And Stills once told me that he was happy that Henry Diltz and I got the updated edition of the CSN biography out in the market because "the first edition ended on such a terrible note, with David's trouble and all." One night at a CSN concert, June 30, 1985, I was sitting in the orchestra pit in front of the stage and Nash dedicated "Wasted on the Way" to me for taking to the time "put up with us turkeys" long enough to write a " great book." That was something I wasn't expecting to hear. Also, Joni Mitchell, back when the first edition came out in 1984, thanked me for not "chopping up" her quotes and that she thought the book "captured what I love best about them."
4WS: The reviews I have read on, for example, amazon.com, are all very positive. Are you sensitive to reviews?
DZ: I certainly read them; not that there have been that many. I guess I'm sensitive to them. But, as you say, most of the reviews of the CSN biography and 4 Way Street have been pretty positive. The only real cutting comments came from Sid Griffin in MOJO, who called me a sycophant and felt that "4 Way Street" only showed the guys in the best light possible. That surprised me. Sid obviously didn't read all of the pieces, such as Mark Christensen's look at Crosby in the full throws of his '80s drug addictions or Peter Knobler's Stephen Stills article, which shows Stephen in a less than flattering light in a number of instances. Reviews are certainly not why I did these books. But I am happy when anybody tells me how much they enjoyed reading them.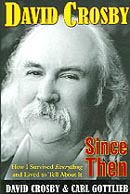 4WS: David Crosby mentioned you personally in the acknowledgements of his latest book "Since Then: How I Survived Everything and lived to Tell About it." He says "…David Zimmer, who knows as much about CSNY as anyone, and did, in fact, 'write the book'". What does he exactly mean since you are not the co-writer?
DZ: Well, I work for the company that published "Since Then" and I offered some suggestions at a couple of points. But I certainly did not write "Since Then." I think David and Carl were just being tongue-in-cheek. It surprised me to read that, but I appreciate the compliment and the sentiment, guys! My wife thinks "the book" they are referring to is my CSN biography. But she's prejudiced, of course.
4WS: Do you know the co-writer of David Crosby's latest book, Carl Gottlieb, personally?
DZ: Yes, I know Carl. I first met him in Los Angeles in the '80s when he and David were working on the first Crosby autobiography. I lent Carl all of the cassette tapes of my 1980s interviews with Croz. Carl's a talented guy in the film and TV world, and he knows how to tell a story and has the ability to draw a lot of great tales out of David. I just wish he'd been able to interview a few more people for "Since Then, " particularly Neil Young. I know Carl tried. I guess it just wasn't meant to happen.
4WS: And what about other CSN/Y writers and editors? Steve Silberman (contributing editor of Wired magazine and writer of the liner notes of Crosby's box set)? Johnny Rogan (writer of "Crosby Stills Nash and Young The Visual Documentary"? The writers of "Crosby Stills Nash and sometimes Young" book?
DZ: I'm happy to be able to call all of them friends – though I've never actually met Johnny Rogan, we've exchanged letters and we've traded acknowledgement words in our books. Johnny likes to dig deeper than any music writer I know and I've always enjoyed reading his opinions and the quotes he lands. And while I've also not met Steve Silberman in person, we've talked on the telephone a lot and traded numerous e-mail and web conference comments often enough to the point where I feel really close to him. Steve is a like a second generation Beat poet who gets to the heart of what Crosby & Co. are all about. I've known Francesco Lucarelli since the '80s and have always enjoyed how he and Stefano Frollano (whose excellent Neil Young book – wish I could read Italian better – is wonderful to flip through) and Lucien Diggelen and Herman Verbeke track down every little detail. I would also like to mention three other CSNY writers who I consider friends and have the highest regard for: John Einarson, the wonderfully talented writer of books on Neil Young, Buffalo Springfield, the birth of country rock, Randy Bachman and many others; Pete Long, whose "Ghosts of the Road" book on Neil's live performances is an essential book; can't wait to read the new edition; and Peter Doggett, who has expertly chronicled the careers of Mssrs. Crosby, Stills, Nash & Young for years – most recently in MOJO.
1979 BAM INTERVIEW WITH STEPHEN STILLS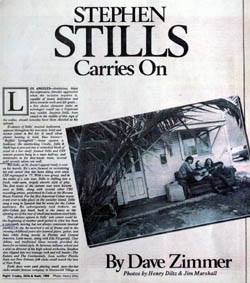 4WS: What do you recall about the BAM interview with Stills?
DZ: Well, Dolf, I remember a lot … like it was just last week rather than more than 28 years ago! On the plane flight from San Jose to Los Angeles on February 20, 1979, I went over my binder filled with questions and jotted down little notes to myself. When I managed to find Stephen's house in Bel Air, I parked my rental car near a tall metal gate that had a big "S" on it. When I rang the door-bell, actress Susan St. James (whom Stephen was seeing at the time) answered the door, then Stills appeared wearing a Lance Alworth San Diego Chargers football jersey and jeans. "Gotta work now," he told her, then he shook my hand and led me into his den/library. We passed down a hallway with framed platinum and gold records and concert photographs — including a classic Manassas-era shot of Stephen about three feet off the ground, playing a white Gibson Firebird. There was a beautiful sterling silver platter leaning against a bookcase with the words 'BUFFALO SPRINGFIELD' embossed in the middle. When Stephen sank into a plush leather arm chair, he asked about San Francisco, said he *loved* San Francisco Chronicle columnist Herb Caen, and mentioned that he missed Sausalito. Then he said, "So, whatta you wanna know?"
4WS: You asked Stills "What ever happened to 'Stolen Stills,' an album he was supposed to release a few years ago?" Can you shed some fresh light on this album and is there any news about a possible Stills box set?
DZ: At the time of that interview, Stills had some "leftover" tracks from the '70s. I got a chance to hear most of them eventually and, with the exception of a "Black Queen-like" version of "Crossroads" – not the speeded up version he played in the mid to late '70s – there was not much memorable there. As far as Stephen's box set, I don't have any inside information on that. Talk to Nash. But whenever the Stills box set does materialize, I hope it includes pristine versions of such songs as "One Way Ticket (One Way Ride") (I was at Rudy Records in 1979 when he cut the basic track for that song), "Witching Hour" (Chris Hillman did a great version on his first solo album) and acoustic demos of "Relaxing Town," "The Treasure" and "Buyin' Time" as well as demo tracks he "built" on his own (and with Dallas Taylor) for the first CSN record and his first solo album.
4WS: The interview was after the release of Stephen Stills' "Thoroughfare Gap". What do you think of that album?
DZ: I must admit "Thoroughfare Gap" is far from my favorite Stills solo album. It certainly has some high points, such as the title track (but I still prefer the Manassas-era version), "Midnight Rider," "Lowdown" and "Beaucoup Yumbo." But "Can't Get No Booty," "I Can't Dance Alone" and other dance-flavored tracks don't sound like classic Stills to me – but I appreciate the fact that he stretched out from the norm.
4WS: By the way: what do you think of his latest release "Man Alive!"?
DZ: "Man Alive!" is a much stronger record than I thought it would be – with the quality of Stephen's voice not in the best of shape these days. Even though he drew from different time-periods, spanning the late 1970s to the '2000s, it worked as a cohesive record. Hearing "Different Man," Stephen and Neil together, like two old gunslingers on the back porch, really gets to the heart of the matter.
4WS: What question, if any, did you not dare ask or would you ask in retrospect?
DZ: I had written down, but did not ask, a question about why Stephen thought Neil Young kept walking out on so many of his projects, from Buffalo Springfield to CSNY to the Stills-Young Band. Believe it or not, because I felt I'd wimped out by not asking him that question, I called him up on the telephone a week later (through his publicist at the time, Anthony Fawcett). Stephen came to the phone. When I asked him that question, there was about ten seconds of silence, then he said something in Spanish before saying, "I'll talk to you about it some other time, OK? I gotta take my son, Christopher, for a drive." So my initial instincts were correct. He didn't want to talk about it. During subsequent conversations, Stephen went into detail about his complicated relationship with Neil – with some of that detail in the updated CSN biography and more to come in the upcoming 2008 edition.
4WS: Stills mentions in that interview a new song he wrote with George "Chocolate" Perry called "Dangerous Woman on the Loose." Is that song still shelved?
DZ: Yes, that song is still unreleased. A live version has been in circulation on the trading circles for years.
4WS: Stills is very negative about the live album "Four Way Street". What do you think of it and is it true some songs came from different shows?
DZ: I actually love the album "4 Way Street." I love the pure sound of the pure acoustic guitars and the harmonies sound fine to my ears. I don't care if there a few clinkers in there. The only song that really doesn't work, vocally, is "Carry On" – but the extended electric guitar jam is magnificent. As for the tracks being taken from different shows – that's no secret. In the old vinyl lyric sheet, it even lists the various nights at the Fillmore East and Chicago where the shows were taped. Pete Long, in "Ghosts on the Road" offers a cool guide to which songs came from which venue on which night. Buy the new edition of Pete's book when it comes out!
4WS: Reading that excellent interview, it is obvious you are very well informed. How did you, in the pre-internet ages, keep yourself informed about CSN/Y?
DZ: Thanks for the kind words, Dolf. Your always up-to-the-minute and wide-ranging excellent 4waysite.com keeps me well informed these days. But back then in the late '70s and throughout the '80s, I was in much closer contact with the guys as well as photographer/archivist Joel Bernstein. In Jimmy McDonough's Neil Young biography, "Shakey," he quotes Joni as referring to Joel as "the court historian." That's true. So I got a lot of information from Joel and the guys. But in addition to that, I read every music magazine I could get my hands on, including Rolling Stone, Creem, Circus, Melody Maker, New Musical Express and others. And when there was any mention of the CSNY guys, I bought it, read it and kept it.
4WS: Why did Stills walk away from your interview in 1979, only to come back 30 minutes later?
DZ: We chatted for about two hours, with the interview ultimately taking place all over his house — from his den to his dining room to The Pub (his basement studio). He was direct and cordial throughout. He only seemed to flinch after I asked him about Jimi Hendrix, to which he responded, "He was just as confused as the rest of us," and walked out of the dining room. I always felt that, for some reason, the mention of Jimi Hendrix, at that moment, just spooked Stephen. The interview continued about 30 minutes later. When we went down to The Pub, Gerry Tolman, a guitar player in his band at the time, dropped in and Stephen rubbed his head like he was part of his family.
After I'd asked my last question and he was seeing me to the door, he said, "You did your homework … I like that." Then the door closed and I was off to my hotel. It would be the first of about 55 conversations I would have with the man. And I look forward to talking to him again in about a month.
THE END
4WS: My last question to you is the same as your last one in your interview with Stills: "So what's your current motivation, your next goal"?
DZ: My current motivations are to spend more time with my family, my wife and son, while I try to continue to write things that are meaningful to me and, hopefully, enjoyed by others. Sometimes just writing a decent sentence or two is motivation to write three more, which leads to a paragraph, then a few pages. It can be hard, though, with my full-time day job in corporate communications. When I get home at night, I often have nothing left and, by then, would rather be with my family anyway. But I still manage to carve out time for my writing. Beyond another update of the CSN biography, I've reached a point where I want to reach into my head and pull out some stories and see what happens – either short stories, a novel for young readers or, eventually, something longer that can be felt and reach readers of all ages. That's my next goal. That's my next dream. And I've been so lucky so far in my life to have realized most of the dreams I've had.
4WS: Thank you so much for taking your time, Dave. I know you have been very busy lately and I hope I did MY homework well.
DZ: My dear friend, Dolf. Thank you for the opportunity to engage in this interview and thanks for keeping 4waysite.com alive and fresh. It takes a lot more work than most people are aware of.
Yes, you did your homework very well. Long may you run!