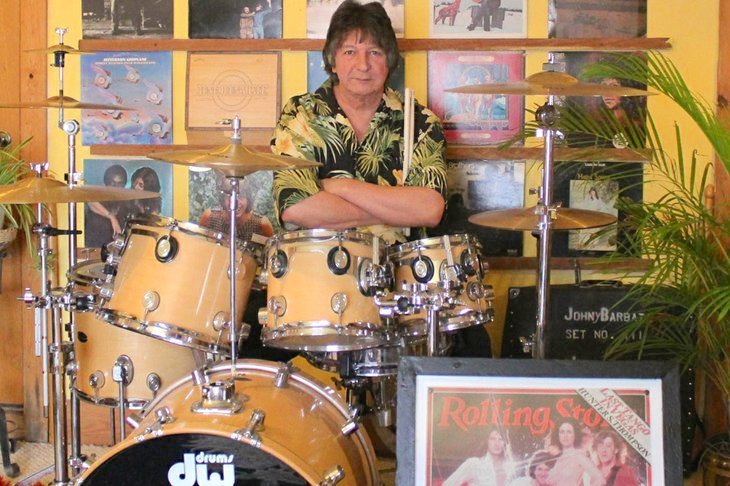 4WaySite Exclusive Interview
Conducted May 22, 2014
Johny Barbata (JB)
John Kwit, North American Reporter, 4WaySite (4WS)
Ex-CSNY, Jefferson Airplane/Jefferson Starship & Turtles drummer Johny Barbata is embarking on a month-long, multi-city West Coast book tour. We caught up with Johny via phone from his home.
4WS: Thank you for the opportunity to conduct this interview, Johny. Let's start with an easy question: You recently celebrated birthday #69 back on April 1, 2014. How are you feeling – how's your health?
JB: Very good! I've lost 35 pounds as a result of a heart transplant that I had about 6 months ago. I have a new aorta and I'm feeling great!
4WS: Wow, I did not know that! Your former band mate David Crosby recently had some stent work done to take care of some heart issues as well. I'm very glad to hear that you are feeling well and are well on your way down the road to recovery. Are you keeping busy these days by doing any live gigs, drumming lessons or producing/recording?
JB: I have an instructional drum DVD for sale on my website but I haven't been doing any private lessons recently. As far as playing live, I occasionally play with the house band at Louie's Grill & Bar on Lake Hefner in Oklahoma City. In September and October of this year I'm planning to go into my in-home recording studio for 7 or 8 weeks and work on some new material. It'll be rhythm and blues focused. I'm hoping to have a 7 piece band, including a trombone player and saxophonist.
4WS: Neil Young is due to come out with Archives Volume 2 (1973-1979) this summer. Supposedly it will include an alternative version of the entire album Time Fades Away featuring live tracks from the tour with the late Kenny Buttrey on drums. You replaced Kenny at about the half-way point in the 1973 tour on which the original album was recorded. Have you heard anything from Neil Young regarding this alternative release?
JB: No, that's a bummer and it's a shame as any reissue of Time Fades Away featuring me on drums would earn me half a point. I'll give Neil a call about this.
4WS: For those of us not in the music business, what does "half a point" mean?
JB: Money. That was a rough tour for Neil. Danny Whitten (Crazy Horse guitarist) had committed suicide prior to the tour. The sound in concert was never right for Neil and Kenny wasn't playing loud enough. That's why Neil called me up and had me take over on drums. I had about 20 minutes to rehearse before my first show. The entire tour was recorded with the same equipment so the overall sound quality would be the same regardless of the date of the show. Maybe Neil liked his vocals better on the early part of the tour.
4WS: Well perhaps I have some better news. Neil was also supposedly set to put out the next version of his Official Release Series: Discs 5-8 on Record Store Day 2014. I don't believe that happened, but the project was set to include reissues of 4 of his albums on 180 gram black vinyl boxed in an accordion-type folder: Time Fades Away, On the Beach, Tonight's the Night and Zuma. Have you heard anything from Neil about that release?
JB: No, again I haven't heard anything about this from Neil.
4WS: In 2007 you published your memoirs in a book entitled, Johny Barbata, The Legendary Life of a Rock Star Drummer. You did a book tour shortly thereafter and we actually did a rather lengthy interview with you at that time for www.4waysite.com in April 2008. I understand you have some big news to share regarding that book.
JB: Yes, I do. I will be doing a 17-stop West Coast book signing tour from June 3 through June 18, 2014. I'll be making 2 appearances in Texas, 2 in Arizona and 13 in California. The dates and cities are all listed on my website, www.johnybarbata.com.
4WS: What is the impetus for this tour? Is the book being republished? Have new parts been added or updated?
JB: I put the book signing tour together myself. I'll be able to make a little money on my way to my 50th High School reunion that I will be attending in San Luis Obispo on June 21. The book is due to be republished in a month or so but it won't be available for fans on this tour. I'm working with Hal Leonard from Books-A-Million on getting it republished. It will be cleaned up (edited) a little bit and I'll be adding some new stories.
4WS: Will there be a complete Sentinals reunion happening at your 50th High School reunion in San Luis Obispo?
JB: No, although I expect one or two of the guys in the band to show up.
4WS: Will fans be able to purchase any other items from you on the tour besides your book?
JB: Yes, I will have copies of my Instructional Drum DVD, autographed drum sticks and photos.
4WS: Most of the locations on your book signing tour are either musical instrument stores or record shops, although the final stop in Mendocino, California, will be at a bar. Do you plan on playing live at any of these stops?
JB: No, nothing definitive is planned, although I will have my drum pad along and the music stores may have their drum kits available.
4WS: You have a stop scheduled for June 6 in Tucson, Arizona. Stephen Stills is due to play a solo show there on June 3. It doesn't appear you will cross paths but if you did would you stop in at his show?
JB: Why not, of course! Although I've heard that Stephen's voice is shot. I chalk that up to too much cocaine. I did have a chance to hang out backstage and visit with David Crosby and Graham Nash the last time they played as a duo in the area. That was a good time.
4WS: When was the last time you spoke with your former CSNY bandmate, bass player Calvin "Fuzzy" Samuel? He's working on a new album as well. Did he invite you to participate?
JB: It's been about 3 months since I spoke with him. No, he didn't ask me to play on his record.
4WS: Some time ago I noticed some personal rock and roll related items of yours that came up for auction on the internet. What was the hardest personal item you decided to part with?
JB: Yes, all of my personal memorabilia is gone now. I had a bass drum with the Turtles logo on it that I sold. That had some special memories for me.
4WS: Johny, thank you so much for your time. Good luck on your upcoming book signing tour and in your fall studio work.
JB: You're welcome! Thank you!