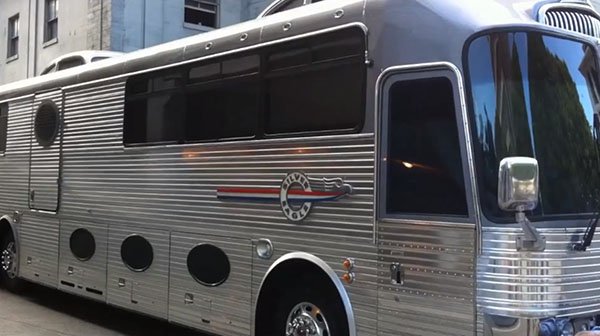 4WaySite
By Gary Goltz
2013
On Thursday, September 12, 1996, I went to see a concert of my favorite singer/song writer Neil Young at Irvine Meadows, in Southern California. My friend suggested I drive my 1955 Broderick Crawford Highway Patrol Buick, as he had knew Neil was a classic collector. After the show, I was allowed to park my Buick next to Neil's tour bus.
The tour bus itself was a tribute to classic Buicks. It had two 48 Roadmaster roofs mounted on the top, with a 48 Roadmaster grill mounted on the front, and 61 Buick tail lights mounted on its rear. It also had a set of 54 Buick portholes on its side.
After a short wait, Neil came out of the stage exit on his way to the bus. Upon seeing my Highway Patrol car he paused to admire it with a true Buick lover's glow in his eyes. I played the Highway Patrol theme song through the car's P.A. system. This brought a smile to Neil and the estimated 30 people that had gathered around. I then switched to a new Neil Young CD. With the cars mike in hand, Neil began singing along to his CD over my Buick's mic!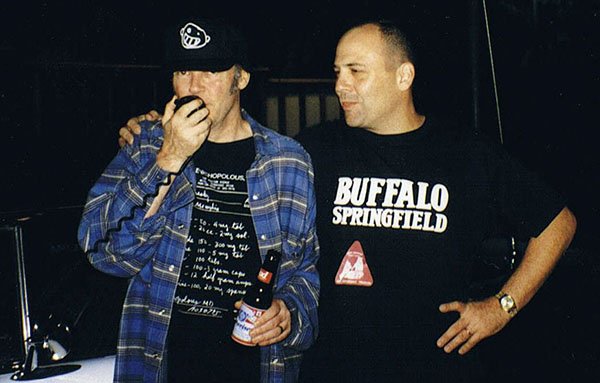 A year later I was at another Neil show this time wearing a tee shirt that had the picture of us on it. When I got to go back stage after the show Neil walked past me and looked pretty tiered. I yelled out to him and he initially said "hey man I'm ready to call it a night". But then I said look at my shirt to which he glanced down and immediately got a smile on his face saying "I remember you and that cool Buick". I asked him to sign the shirt which he did while I was wearing it. I told him the problem was now that he signed it I couldn't wear it anymore since I was going to have it framed.
For those who may not know, Neil's song Long May You Run is a tribute to his 48 Buick Roadmaster hearse he called Mort. It the one he was driving in Los Angeles back in 1966 when he ran into Stephen Stills and formed the Buffalo Springfield. I have since further dedicated the song to my 1955 Broderick Crawford Highway Patrol Buick too.
In 2002 I met David Crosby and Graham Nash back stage at a CSNY show in San Diego with my wife Sharon and got this great picture.
About a year later I saw Crosby again this time wearing my Simpson's CSNY caricature t-shirt which he had never seen. Crosby was so enamored with it that I end up literally give him the shirt off my back!
Finally in 2013 I got to meet Stephen Stills at a book signing for Judy Collins autobiography Suite Judy Blues Eyes in Beverly Hills where my best buddy, Joni took this picture.