GENERAL
Why is the name Crosby, Stills & Nash not in another sequence?
Graham Nash: "We didn't get the name for the band until we were recording the first album at Wally Heider Studios in Los Angeles. We didn't want to sound too much like a permanent group, so it had to be our names. Stephen wanted  'Stills, Crosby & Nash', but I vetoed that because it just didn't sound right.  The only way of combining our names that sounded good to me, was 'Crosby, Stills & Nash', so I put that forward, and of course, Crosby was delighted."
Why did Neil Young join Crosby, Stills & Nash?
CSN were signed to Atlantic Records by Ahmet Ertegun, who had been a fan of the Springfield and disappointed by that band's demise. He convinced CSN to allow Neil Young to join them on one of their tours, thereby founding Crosby, Stills, Nash and Young. After several meetings, the trio expanded to a quartet with Young a full partner. Although Neil Young was working with Crazy Horse, he could use some promotion.
As the story goes, Crosby, Nash and Stills went to Neil and he played "Helpless". Before Neil Young could finish playing the song, they asked him to join him.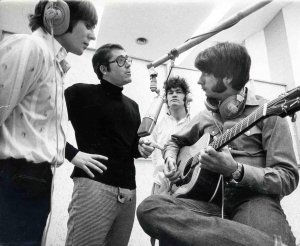 Did Stephen Stills audition for The Monkees?
Yes, in 1966, Stills auditioned for The Monkees, but he dropped out, partially because his already-thinning hair and bad teeth made him look too old for the part, and partially because the actor's contract required him to assign his music publishing rights to Screen Gems, something he did not want to do. Stills instead recommended his former roommate, Peter Torkelson, who got the job.
Who are The Reliability Brothers?
From Crosby, Stills & Nash: The Biography, Dave Zimmer and Henry Diltz.
Graham  Nash: "When any of us lost it or when it got totally crazy, we turned to our alter egos 'The Reliability Brothers'. They were always on. CSN in phantom form. I can remember yelling 'Hey, the The Reliability Brothers, man. We can fuckin' do it'. Then there'd be some great take. We must have over a thousand tapes that begin 'Reliability Brothers, take…'"
Who is Joe Yankee?
Neil Young. He did play on Graham Nash's Song For Beginners and Wild Tales, and used the name of  Joe Yankee.
Crosby, Stills, Nash and… Sebastian?
"That gets inflated with each interview," Sebastian said, explaining how he nevertheless nearly ended up with the group. Sebastian was playing drums for Crosby, Stills & Nash during some rehearsals at a time when the group was also conducting the search for a drummer. "Why not Sebastian, he's doing well enough?" Stills said at one point.
As Sebastian explains it, he wasn't trained as a drummer, so he didn't know any extravagant drummer tricks. Which is exactly what three guitar-playing singer-songwriters were looking for. A drummer who knew his place. And as the guy who had written all of the hits for The Lovin' Spoonful, they could hardly have kept Sebastian hidden behind the drums.
What is Neil Young's real name?
Some controversy surrounds Young's full name and occasionally it is incorrectly listed as Neil Percival Kenneth Robert Ragland Young. However, in Young's official biography, Shakey by Jimmy McDonough, the author states Young's birth name as Neil Percival Young with confirmation from both Scott Young (Young's father) and by one of Young's band members who has seen his passport. Also, in the concert documentary Year of the Horse, Young actually states his full name as Neil Percival Young.
Who called Crosby Stills Nash & Young "America's Beatles"?
Bill Graham once called CSN&Y "America's Beatles". Always the consummate showman, Graham was constantly hyping both the press and fans, and his efforts to elevate CSNY to a mythical status was somewhat characteristic. But Graham's allegiance was always with the ticket buying fan and ensuring that they received their money's worth. Graham's insistence on the best lighting and sound systems and security are almost legendary in the business.
So, who was Bill Graham?
Bill Graham was born Wolfgang Grajonca in Berlin, the youngest son of a Jewish family that had emigrated to Germany prior to the rise of Nazism. He was the pioneer of rock promotion. As the leading impresario of rock from its earliest days in San Francisco, Bill Graham worked with a virtual Who's Who of rock-n-roll: Crosby, Stills, Nash and Young, the Rolling Stones, Bob Dylan and the Band, the Grateful Dead, and many others. It was Bill Graham who organized what was rock's first massive stadium tour with Crosby, Stills, Nash and Young in 1974.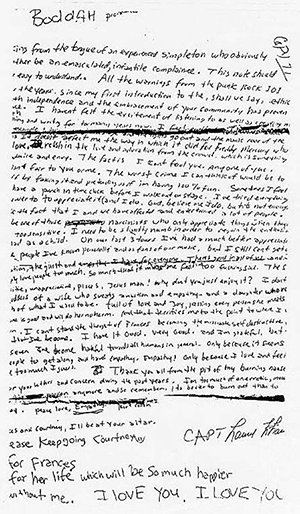 Did Kurt Cobain quote Neil Young in his suicide note?
Apparently, Neil Young had been trying to reach Cobain by telephone in the days before his suicide to no avail. But yes, Kurt Cobain quoted "It's better to burn out, than to fade away" in his suicide note, citing Young's lyric as artistic justification for ending his inconsolable anguish. Young was shaken to the bone. Always an advocate of allowing the listener his or her own individual path through a record, he was so devastated by Cobain's personal reaction to a song that was basically written as a celebration of Punk that he was impelled to record the 'Sleeps With Angels' album in lament."
During Neil Young's induction speech into the Rock & Roll Hall of Fame on January 13, 1995, Young choked up and concluded by thanking Cobain for "all of the inspiration".
Did Graham Nash know Jimi Hendrix?
Nash used to hang with him in England. He said he was with Jimi watching a live show when the act on stage pointed out the fact that Jimi was in the audience and then the spotlight was pointed at [them]…Said he was a quiet, funny nice guy….but that was the first time Nash had realized what a sensation he was with the public.
But recently we learned that Nash and Hendrix were actually much closer than this. Mitch Mitchell, Hendrix's drummer, shared a flat with Nash in London during 1967 and they all spent quite a bit of time together, according to Mitchell's bookThe Hendrix Experience.
How did Stephen Stills know Jimi Hendrix?
Jimi Hendrix appeared on Stills' first solo album.
Stephen Stills: "I followed Jimi Hendrix all around the country for a year learning how to play lead guitar. We were great friends, too, and he taught me some great tricks. We were going to do an album together. That song 'Old Times, Good Times' was the first try at that. After my solo album was turned in, we were going to go back to England and do an album. But… he died."
Wasn't it difficult for Stills learning in the shadow of a dominating lead player like Hendrix?
Stephen Stills: "That's total BS. He kicked me in the butt one night – I was playing rhythm with my eyes closed, and he said, 'Go on. Play lead!' Jimi and I got together as much as we could. I always thought a good blues (rhythm) section that would take time to learn Jimi's vamps and stuff would have really just set him free. God knows what he was hearing. I really didn't hit my stride, though, until after he died. If he was still around, we'd be inseparable by now."
And what is the connection between Jimi Hendrix and Neil Young?
Neil Young: "One of things I remember about Woodstock was trying to get there to play. As it turns out, the charter plane I was on with Jimi Hendrix flew into the wrong airport. We were supposed to be picked up by a helicopter. The roads were jammed and there was nobody at the airport, so we had no way to get to the concert. So we're standing at the airport with Melvin Belli [an attorney] trying to figure out what to do. And Melvin Belli steals this pickup truck parked at the airport. So it's the three of us in this stolen pickup truck trying to get to the Woodstock concert to play — Jimi, Melvin & me. That's what I really remember about Woodstock"
And finally what about David Crosby and Jimi Hendrix?
He wasn't as close to Jimi as he was to Nash or Stills but they did jam together a few times. Crosby first encountered Hendrix at Monterey Pop Festival on 18 June 1967, although according to Crosby's audio interview on the DVD of "Monterey Pop" he had already heard his music in England and had brought back Hendrix's first album ("Are You Experienced?") which hadn't yet been released in the US. At Monterey, Crosby sang "Hey Joe" with the Byrds for the last time.  People say that after he saw Jimi do it, he never sang it again!
Mainly through his friendship with Stephen Stills and Peter Tork, Crosby ran into Hendrix a few times after that. On 27 June 1967, Crosby was part of a jam at Stills's Malibu house with Stills, Hendrix, Buddy Miles, Doug Hastings, Bruce Palmer and Hugh Masakela.
In late July 1967, Crosby took part in a jam with Hendrix, Mitch Mitchell, Jack Bruce, Eric Clapton, Mike Bloomfield and Buzzy Linhardt at the Café Au Go Go in New York.
On 10 February 1968, Crosby was part of a pre-show jam with Hendrix before his show at the Shrine Auditorium in Los Angeles. Others who took part included Micky Dolenz, Buddy Miles, Mike Bloomfield and Harvey Brooks.  After the show most of the musicians went to a party at Peter Tork's house in Hollywood.
(Sources: Johnny Black – Eyewitness Hendrix, 1999 + Univibes magazine.)
What was Jimi Hendrix' last guitar solo that was recorded?
Originally Jimi Hendrix recorded a guitar solo for Stills' "Love the One You're With". The ones who heard it were buzzing about it as something incredible. Apparently it sat for a while and Stills recorded over it with the steel drums. It was Jimi's LAST guitar solo…
He died soon after.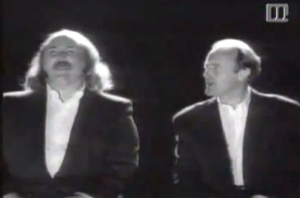 Who paid for Crosby's liver?
None other than Phil Collins: "I gave him the money to pay for his liver and keep the IRS at bay. I just wanted to give him something back for what he'd given me: all the music. Love him dearly".
(Source: the liner notes of Crosby's box set Voyage.)
How come CSNY suddenly "reunited" in 1999?
The band's decision to record and tour again had its seeds in a visit Young made to a studio where CSN were recording, because he said he felt like seeing his friends. Impressed that the trio were funding their album themselves because they were between record deals, he signed on. Meanwhile, he and Stills had been working on putting together a Buffalo Springfield retrospective and it seemed as if the time to work together again was right.
Graham Nash: "Neil came down to the studio in LA to play on one of Stephen's songs. He heard me playing a track of Heartland [working name of Looking Foward] and wanted to play on it. Then he played on the Stephen Stills song called "Acadienne" then 14 songs later the album was done."
Why is the CS&N(Y) mail list called The Lee-shore?
Mick Anderson: "Back in April and May of '95 when I was putting the list together, this is how I came up with the name 'lee-shore', as best as I can remember…"
In the best traditions of other music mailing lists, it had to have a name that reflected something from the band's history: a song or album title or other catchphrase that meant something to a CSN fan. I gathered up my CSN albums, scanning the album titles (not much to work with there!) and the song titles for possibilities. Not that I owned all the albums, mind you, but more than a fistful.
From this, the words "Lee Shore" stood out like a beacon, and I don't think I found anything else that caught my eye nearly as much."
What does "lee shore" mean? 
The terms lee shore and weather or windward shore describe a stretch of shoreline with respect to the wind direction, and is of particular importance when sailing. The lee shore, named because it is to the leeward side of an approaching boat, has the wind blowing towards the shore. A windward shore, named because it is to the windward side of an approaching boat, has the wind blowing away from the shore.
Lee shore can also refer to the shore onto which waves break; often this will be the same as the first definition, since waves and wind often move in similar directions. Surf can also push watercraft into the shore, so the issues in dealing with such a lee shore are similar.
Lee shores are dangerous to watercraft because, if left to drift, they will be pushed into shore by the wind, possibly running aground.
The beach of a lee shore in a storm is also at a significantly higher risk due to the undiminished effects of the wind and waves.
(Source: wikipedia.org).
Who was the first musician on earth who recorded digitally?
Stephen Stills! He went into the studio in 1979 and cut an album with the then-revolutionary digital recording system. So his 1979 version of "Cherokee" was the first digitally recorded rock song.
What kind of accent do CSN&Y have?
Dave Zimmer: "For me, part of the magic of CSN&Y is the wonderfully unique nature of their voices. I don't pretend to be a linguist expert. But here are some related reflections anyway …
– Crosby: instantly Californian (whatever that means), with child-like inflections that bubble over when he's excited. Also, the wonderful timbre of David's voice (like the low note on a flute) makes for delightful storytelling (Django must agree. Has the "Thomas The Tank Engine" movie been cast yet?). In addition, David's raps sound so real and honest without ever being harsh or bombastic. You just drink them in.
Favorite Crosby words: HELL-o, man, weird shit, stunner, Janny, shining light.
– Stills: Southern, of course, which he leans on with an exaggerated accent, at times, during his stage raps; but in quiet conversation, a soft, reflective, Continental delivery takes over. The Marlboro & mid-Atlantic whiskey barrel grain is stronger than it used to be. Words he used to purr now sound more like husky growls. Yet, the character of Stephen's voice is still very distinctive and he conveys commanding authority unlike few people I've ever heard.
Favorite Stills words: consummate, man, mate, beyond measure, family.
– Nash: I'm at sea distinguishing regions connected to English accents, but Graham, to my ear, has always sounded very elegant and friendly rather than formal (provincial) and stiff. When he starts tasking, you pay attention and get swept away. When he describes certain scenes from the past, you go right back there with him. His accent may have been California-ized over the years, but he still sounds English to me.
Favorite Nash words: you got it, kid, Crosby, golf, good night.
– Young: Joni Mitchell once described her and Neil's voices as "Canadian prairie." The description works for me. Neil's speaking voice is a lot lower than his usual singing voice. The frail, sometimes whiny edge is still there, though. In the mid '80s, during his International Harvesters phase, Neil adopted a faux-country accent on stage, "Here's ol' Ben 'long grain' Keith pickin' real good steel guitar for ya tonight." Outside of that period, though, I've always felt Neil's speaking voice had a genuine youthfulness that will be there even when he's 80.
Favorite Young words: old, hey now, Hank, Poncho, real, mama."
When are CSNY birthdays?
The following dates:
– 2_Prisoner-Woodstock Crosby: August 14, 1941 – Los Angeles, Ca., USA
– Stephen Stills: January 3, 1945 – Dallas, Tx., USA
– Graham Nash: February 2, 1942 – Blackpool, Lancashire, United Kingdom.
– Neil Young:  November 12, 1945 – Toronto, Ontario, Canada.
Why was Stephen Stills' son Justin on Trauma: Life in the ER?
In 1997 Justin Stills at age 26, was in a serious snowboarding accident in Tahoe. His trauma admission, and part of his recovery, was filmed and shown on The Learning Channel Network's reality show Trauma: Life in the E.R..
SONGS
What was the first song CS&N played together?
Stills' "You Don't Have To Cry".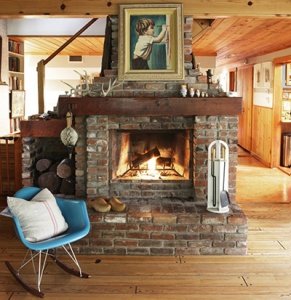 Where did that happen?
There are at least three different stories about where CSN sang together for the first time. Was it in Cass Elliot's, Joni Mitchell's or John Sebastian's living room…?
From Johnny Rogans book The Complete Guide To The Music of CSN&Y (see also section Books): "It was played during an impromptu singing session in Laurel Canyon. Nash witnessed the starting vocal bleb and songwriting power of the Crosby & Stills partnership. After listening to this song, he asked them to play the tune once more, then added a high harmony much to the amazement of everyone present".
Graham Nash: "David and I believe that it was in Joni Mitchell's living room that we first sang together. Stephen and David wanted to show me a song that they had worked on in two part harmony. The song was 'You Don't Have to Cry' written by Stephen. They sang it once, I asked them to sing it again, they sang it a second time, I asked for another performance. On the third attempt I put my high harmony on and it sounded awesome. I knew in my heart that this was something I wanted to do for the next few years. The musical, social aspect of combining these three voices with the words that we had come up with was very exciting to all three of us. We knew that we could sing, that the sound was unique and that what we had to say was worth saying. And here we are 30 years later still doing it with all the energy of teen-agers!"
Dave Zimmer  (from the 2007 Dave Zimmer interview on 4waysite.com): "My theory is that it was Joni's Laurel Canyon house. I think they probably hung out in Cass Elliot's kitchen and John Sebastian's living room, and may have eventually blended voices there. But, from talking to Croz, Nash, Stills and Joni … I think the first time was at Joni's place, which she described to me once so colorfully as "a little house, almost like a tree house."
Does it happen to be the house in Nash's song "Our House"?
Dave Zimmer (from the 2007 Dave Zimmer interview on 4waysite.com): "Yes, Dolf, Joni's house is the one celebrated in Graham's 'Our House.' He once told me: 'The time that Joni and I were living together was really interesting, because I had left my band [The Hollies] successfully, I had left my country [England] successfully, I had been accepted here [Los Angeles, California], and I was feeling great. And Joni was feeling great, too; she had started to realize who she was and the fantastic work she was doing. She was painting and designing her second album cover, doing that self-portrait. And I remember being totally in awe of her. She'd go and make some supper and come down and we'd be eating, then she'd all of a sudden space out, go to the piano … to see her sit down and write "Rainy Night House" and all those other things was just mind blowing.'".
What does Stephen Stills sing in Spanish at the end of "Suite: Judy Blue Eyes"?
1) There are different translations. It's hard to translate, since it is broken Spanish and  difficult to understand. This is the literal translation:
– Que lindo será traerla a Cuba
'How nice will it be taking her with me to Cuba'
– La reina de la mar Caribe
'The queen of the Caribbean Sea'
– Quiero sólo que se encamine allí
'The only thing I want is her to go there'
– Y que triste que no puedo, vaya
'And what a pity that I am not able, blast (or: damn)!'
2) other source:
– Qué lindo será traerla a Cuba
Stills could be saying 'sería' ('it would be') as well, it's not clear…
'How nice it will (or 'would') be taking YOU to Cuba'
– La reina de la Mar Caribe
'The queen of the Caribbean Sea'
– Quiero sólo visitarla allí
He could be saying 'visitarle', but this is only a matter of grammatical correction.
'The only thing I want is to visit you there'
– Y qué triste que no puedo, vaya
'And how sad that I can't, "damn"'.
Stills changes this last verse on certain releases of the song (the intro of 4 Way Street or the Daylight Again video, for instance) and says: Y qué lástima (the right stress is on the 'a' but he falls it on the 'i') que no puedo, vaya
'What a pity that I can't'
or:
– Y qué lástima que no puedo ir
'What a pity that I can't go'
Stills in the liner notes on the Box Set: "The little kicker at the end about  Cuba was just to liven it up because it had gone on forever and I didn't want it to just fall apart. I said, 'Now that we've sung all these lyrics about one thing, let's change the subject entirely.' And we did. Even did it in a different language just to make sure that nobody could understand it".
What is Crosby babbling at the beginning of "Marrakesh Express"?
It sounds like "Whoopa, hey mesa, hooba huffa, hey meshy goosh goosh".
Graham Nash: "It's some Crosby gibberish that we moved from the beginning of Guinnevere to the front of Marrakesh Express".
How many songs did Crosby, Stills Nash & Young really make and record together on Déjà Vu? 
Neil Young: "Only three songs. The other songs were in fact, combinations of group members; no group-products."
Dallas Taylor: "Mostly, it was Neil that would take his stuff home after we laid down the basic tracks. Then he brought them back for CSN vocals. Very weird and childish.. Almost like 'I'm taking my marbles and going home'."
Which songs?
Neil Young:  "'Woodstock', 'Almost Cut My Hair' and 'Helpless': pure spontaneously one-take songs."
Is their any song Crosby, Stills Nash & Young wrote together?
"Little Blind Fish". Later in 1997 Jeff Pevar wrote a new song for the CPR band with the same title and lyrics.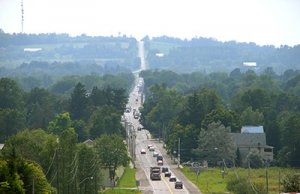 What is the name of the town Neil Young refers to in "Helpless"? 
The "town in North Ontario" referred to in the opening line of the song, is often presumed to be Ontario native Young's hometown; Young himself cleared up the rumors in a 1995 Mojo interview with Nick Kent: "Well, it's not literally a specific town so much as a feeling. Actually, it's a couple of towns. Omemee, Ontario, is one of them. It's where I first went to school and spent my 'formative' years. Actually I was born in Toronto…"
Omemee, just west of Peterborough, is well within what is now considered Southern Ontario, and 130 km from Toronto by road.
Is Stills' "4+20" an autobiographical song?
Johnny Rogan: "According to Stephen Stills, the song concerns an 84-year-old man who started and ended his life with nothing. How Stills manages to make 4 plus 20 equal 84 is a mathematical mystery."
What is "Long May You Run" About?
It's about Neil's hearse car, Mort. He has told the story many times. The song was first played at the May 74 Bottom End show. This is before the 74 CSNY reunion and well before the Long May You Run album with Stills. As for as the Beach Boy reference, it is the type of car(long hearse) that is similar to the "woody" station wagons a lot of surfers and "Beach Boys" had. Just a thought on how he hopes his car has gone on to better things since he junked it.
What happened to the Crosby & Nash harmonies on "Long May You Run"
When Stills & Young were in the studio recording their album, Neil thought they should call in Crosby & Nash for additional harmonies. Unfortunately, after a few days in the studio, they started fighting and Stills & Young wiped C& N's harmonies off the master. But Neil kept the alternative copies and put it on Decade.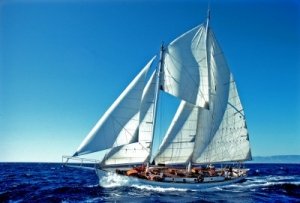 The song "Wooden Ships" starts with the sentence "If you smile at me, 'cause that is something everybody, everywhere does in the same language". Where does that come from?
The opening line of the song is considered by many fans as being one for the ages.
David Crosby: "Written in the main cabin of my boat the Mayan. I had the music already. Paul Kantner wrote two verses, Stephen wrote one, and I added the bits at both ends. I borrowed the first part off a little Baptist church sign in Florida that said 'If you smile at me I will understand, because that is something everybody everywhere does in the same language'. It's a weird science fiction story, but one that could happen tomorrow. 'Silver people on the shoreline' are guys in radiation suits. We imagined ourselves as the few survivors, escaping on a boat to create a new civilization".
Those lyrics are still printed today on T-shirts at Crosby Stills and Nash (and Young) concerts and e-stores.
Was "Wooden Ships" written by Crosby and Stills only? 
No. Paul Kantner could not be credited on the original release of Crosby, Stills & Nash due to legal issues, but he is credited on the 2006 re-release. The song was also released by Jefferson Airplane the same year on the album Volunteers. Both versions are considered original versions of the song.
In which songs do CSNY sing about… CSNY?
A lot of gossip:
DAVID CROSBY:
– "Cowboy Movie": about CSNY including a part about Rita Coolidge. Something about her leaving Croz and going with Nash. Didn't Croz say, to paraphrase, that all Nash had to do was wiggle his finger and the ladies came running?
GRAHAM NASH:
– "Wasted On The Way": obviously about CSN
– "Into The Darkness": Nash sings about Crosby's behavior during the early 80's.
– "Mutiny: about the Bluebird", the Farmer and the Boat on the Bay.
– "Frozen Smiles": about Stills (Graham Nash: "That's my song for Stephen. I love Stephen, but I have the courage to tell him when he's screwing up. As my friends have the courage to tell me.")
– "Cowboy Of Dreams": about Young and Crosby ("where the byrd used to be…")
– "Glass And Steel": about Crosby ("the life of a Rock and Roll refugee").
– "Skychild:" "David said I'd be in trouble if I dared to take a look…".
– "Glass & Steel" : about Crosby.
– "Wounded Bird": Graham Nash: "It was written about Stephen when he was going through changes about his relationship with Judy Collins."
– "Chicago": written after CSNY had been invited to play at a benefit for the Chicago Seven. When Stills and Young declined, Nash wrote an impassioned plea for them to "please come to Chicago just to sing." Nash hadn't yet told Young and Stills that his lyrics were directed pointedly at them.
GRAHAM NASH & DAVID CROSBY:
– "Taken At All": Nash speculating about the CSNY situation up to that point. There's some real power on that boxed set version, compared to the one Crosby & Nash did afterward. Considering this song and "Wasted On the Way", it's obvious that Graham was hurt possibly more than anyone else about CSNY's failure to get it together again.
STEPHEN STILLS:
– "You Are Alive": for Graham and his wife.
– "Got It Made": may have been written partially for David.
– "Change Partners": Stills was saying about "Change Partners" it's literally about changing dance partners and the ways of the South through his eyes when he lived there. But Nash likes to refer to it as the CSN theme song.
NEIL YOUNG:
– "Only Love Can Break Your Heart": Young sings about Nash after his relation with Joni Mitchell ended and allegedly quotes Crosby. One rumor has it that it's about Croz, but Neil pretended it was about Nash to soften the truth.
– "Thrashers": he writes-off CSN? Neil Young: "Yeah. Parts of it were [about CSN]. Just dead weight. Well, at that point I felt like it was kind of dead weight for me. Not for them. For me. I could go somewhere and they couldn't go there. I wasn't going to pull them along, they were doing fine without me. It might have come off a little more harsh than I meant it, but once I write it I can't say, 'Oh I'm going to hurt somebody's feelings.' Poetically and on feeling it made good sense to me and it came right out. I think I'd be doing it a disservice to change it based on what I think a reaction would be. I try not to do that".
– "Hippie Dream": about "Wooden Ships" ("And the wooden ships, Are a hippie dream, Capsized in excess, If you know what I mean.")
– "Buffalo Springfield Again": obviously about Stephen Stills and himself.
– "The Old Homestead": song from Hawks and Doves about his relationship with CSN, Elliott Roberts, Hamlet Ertegun and others. Lots of references to riders, birds, horses, shadows.
– "Get Back To The Country": from Old Ways ("When I was a younger man/Got lucky with a rock n' roll band/Struck gold in Hollywood/All the time I knew I would/Get back to the country/Back where it all began").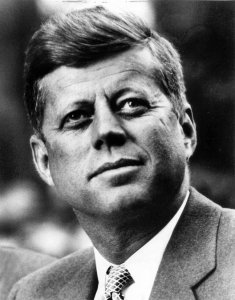 Who is Graham Nash referring to in "Chicago" when he sings 'Don't ask Jack to help you, 'cause he'll turn the other ear'? Graham Nash: "The 'Jack' in my song Chicago is Jack Kennedy. Jack is a term used by many English people as a kind of generic word. Although Kennedy had been dead for years, his spirit lives on."
In the context of the song, "Jack" could refer to those people for whom the Chicago issue is not "their problem"; the song infers , of course, that no matter how far removed from a problem "Jack" might think he/she is, it is always one's responsibility to stand up, be counted and do one's level best to resolve the issue : hence the refrain  "We can change the world"?
David Crosby sings about a pentagram in  "Guinnevere", but what is a pentagram?
A pentagram is a five-sided star used for casting magic spells and commonly connected with Satanism, deservedly so or not. Seems back in the 60's everybody who was "hip" at one time or another dabbled into such occult/New Age nonsense, on top of a tab or two of acid, just because it seemed the fashionable thing to do. It was a groovy time until Manson and his bunch went bad vibes ironically around the same time as Woodstock. Altamont was a totally different scene, more reflecting those certain dark aspects of the 60's that a lot of people have selected memory about, choosing instead to bask themselves in paisley and flowers, peace and love.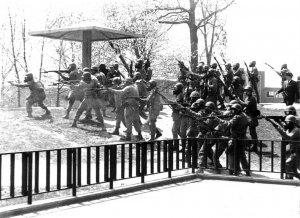 Who are the tin soldiers in the song "Ohio"?
"Tin soldiers" refers to the use of the National Guard at Kent State. Many veterans who served full time referred to the National Guard as weekend warriors as they pretended to be soldiers on a part time basis. Many were just civilians playing soldier (hence "tin soldier") trying to avoid doing active military service during the Vietnam War.
You can find more information in the section Behind the Songs here at 4waysite.com.
This photograph, by John Darnell, was taken at the moment that Ohio National Guardsmen opened fire on students at Kent State University on May 4, 1970.
What's the story behind the two "Carry On" versions?
The "Carry On" version on the CSN Replay album does indeed edit out the organ interlude, Stills wah-wah guitar lines and the "Questions" verses heard on the second half of the song on Déjà vu.  In 1980, Stills decided he wanted to record a new outro for "Carry On" and cut it at Rudy Records in Hollywood, featuring Bill Meeker on drums and inspiring some fresh Stills guitar work.  The "Replay" album (not available on CD) also features a remixed version of "I Give, You Give Blind" without the strings that are on the version of the song on the 1977 CSN album.
Was the song "Triad" really the reason they threw David Crosby out of The Byrds?
Late October 1967 McGuinn and Hillman sensationally sack Crosby on the grounds that he has become too dictatorial in pursuing his musical preferences. When Crosby announces "Triad", he says it IS supposedly one of the reasons they threw him out of the Byrds because it is a song of "lust and perversion". Nowadays Crosby admits it was probably not the (only) reason.
Did David Bowie cover Neil Young?
Yes he did. On his record "Heathen", David Bowie covers Neil Young's "I've Been Waiting for You". This song can be found on Neil's first solo record from 1968, called Neil Young.
Is it true that Neil Young wrote "Down by the River", "Cinnamon Girl", and "Cowgirl in the Sand" all in a single afternoon while sick with a 103 degree temperature? 
Probably one of the most remarkable legends about Neil's music is that he wrote "Cinnamon Girl", "Down by the River" and "Cowgirl in the Sand" all in one afternoon. Many artists would be content to create a single masterpiece over the course of their career. But according to the "Decade" liner notes written by Young himself, he wrote the three songs for the album Everybody Knows This Is Nowhere while lying in bed with a fever of 103 degrees in Topanga Canyon.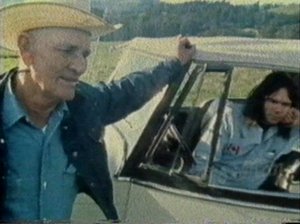 Who is the old man Neil sings about in "Old Man"? 
In 1970 Neil Young bought a giant plot of land in Northern California. He dubbed the place Broken Arrow Ranch and he's lived there to this day. When he moved in, the land was overseen by a man named Louis Avila. "Louis took me for a ride in this blue Jeep," Young said in 2005. "He gets me up there on the top side of the place, and there's this lake up there that fed all the pastures, and he says, 'Well, tell me, how does a young man like yourself have enough money to buy a place like this?' And I said, 'Well, just lucky, Louie, just real lucky.' And he said, 'Well, that's the darndest thing I ever heard.'" Young wrote the song about him.
"Old Man" has got one the funniest mondegreens: "Old man look at my wife, I am in love like you were"
Real Lyrics: Old man look at my life, I am a lot like you were.
Sidenote: Young is older now than Avila was when they first met.
CONCERTS
What was the first time CSN&Y performed together for an audience?
August 16, 1969 at the Chicago Auditorium Theatre, supported by Joni Mitchell.
What is the oldest CSN tour joke?
The bass player's home town. They ALWAYS announce that "Our bass player is from right here in (fill in the name of the locale)". It first started at Detroit, on December 16, 1969, during the first CSNY tour, and they've used it for EVERY bass player since then.
What is the CSNY set list of Woodstock 1969?
Set One
– "Suite: Judy Blue Eyes"
– "Blackbird"
– "Helplessly Hoping"
– "Guinnevere"
– "Marrakesh Express"
– "4+20"
– "Mr. Soul"
– "Wonderin'"
– "You Don't Have To Cry"
Set Two:
– "Pre-road Downs"
– "Long Time Gone"
– "Bluebird"
– "Sea Of Madness"
– "Wooden Ships"
– "Find The Cost Of Freedom"
– "49 bye-byes"
Did Stephen Stills make a mistake during "Suite: Judy Blue Eyes"? 
Stills makes a mistake on the second verse of the "trilogy". Instead of  'Voices of the angels', he sings 'Lacy lilting Lady.'  But then, without missing a beat, they sing the rest of the second verse. They then do the third verse correctly.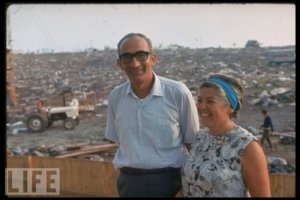 Who was Max Yasgur?
Joni Mitchell's song "Woodstock"  includes a reference to "Yasgur's Farm": "Well, I came upon a child of God / He was walking along the road / And I asked him, 'Tell where are you going?' / This he told me / Said, 'I'm going down to Yasgur's Farm, / Gonna join in a rock and roll band.'"
Max B. Yasgur (December 15, 1919—February 8, 1973) was the owner of a dairy farm in Bethel, New York on which the Woodstock Festival was held in August 1969. In 1971, two years after the Festival, Max Yasgur sold the farm and eighteen months later died of a heart attack at the age of 53. He was given a full page obituary in Rolling Stone Magazine.
Between performances on the first day of the Festival, Yasgur briefly addressed the crowd. Michael Wadleigh's 1970 film record of the event includes the speech.
Four-and-a-half months after the Festival, on January 7, 1970 he was sued by his neighbors for property damage caused by "flower children" who attended the gathering. The damage to Yasgur's own property was much more extensive, and over a year later he received a $50,000 settlement to pay for the near-destruction of his dairy farm.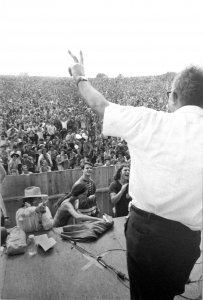 What did he tell the crowd?
Addressing the crowd at Woodstock on August 15, 1969: "I'm a farmer…[interrupted by a cheer from the audience]…I don't know how to speak to twenty people at one time, let alone a crowd like this. But I think you people have proven something to the world — not only to the Town of Bethel, or Sullivan County, or New York State; you've proven something to the world. This is the largest group of people ever assembled in one place. We have had no idea that there would be this size group, and because of that you've had quite a few inconveniences as far as water, food, and so forth. Your producers have done a mammoth job to see that you're taken care of… they'd enjoy a vote of thanks. But above that, the important thing that you've proven to the world is that a half a million kids — and I call you kids because I have children that are older than you are — a half million young people can get together and have three days of fun and music and have nothing but fun and music, and I God Bless You for it!".
Why didn't Graham Nash and CSNY's bass player Greg Reeves & drummer Dallas Taylor almost play at Woodstock?
The helicopter they were on was less than 25 feet off the ground when the tail rotor failed and it began to spin. The helicopter almost crashed and Nash and Taylor were almost killed.
Greg Reeves to 4waysite.com: "The helicopter crashed landed on the main power line, that was supplying all of the electric power for the concert! After the crash landing the pilot instructed us not to touch anything in the helicopter and sit still. We did this and it seemed at the time forever. It was hairy scary to say the least!"
Dallas Taylor to 4waysite.com: "This is true. It was a very scary moment."
Where and when were the tracks on 4 Way Street  played? 
– Pete Long's "Ghosts On The Road" book lists the identifiable tracks (all 1970) as:
– New York, June 5: "Laughing"
– New York, June 6: "Ohio," "King Midas In Reserve"
– New York, June 7: "Find The Cost Of Freedom," "Black Queen," "Loner/Cinnamon Girl/Down By The River"
– Chicago, July 5: "Chicago," "Cowgirl In The Sand," "Don't Let It Bring Your Down"
– Chicago July 6: "On The Way Home," "Teach Your Children," "Right Between The Eyes," "49 Bye-Byes/America's Children," "Southern Man"
Perhaps the remaining tracks are from the LA shows. Long says "Two shows at the LA Forum were recorded although Atlantic do not appear to have filled master numbers for these recordings… A similar puzzle surrounds the recording of the July 5 and 6 concerts in Chicago".
On the subject of 4 Way Street, is there any reason why we only get 33 seconds of "Suite: Judy Blue Eyes"?
Graham Nash to 4waysite.com: "We already had the CS&N record out and the single of SJB so we decided to only give a short sample of the song. Maybe we should have put the whole performance on 4 Way Street because you can get more time on a CD but we made a mistake. Sorry."
What do Crosby and Nash say at the beginning of "Right Between The Eyes" on 4 Way Street?
Crosby screws up at the beginning, and the conversation between he and Nash goes something like this:
Crosby: "Sorry…I never would have believed that you could tune and start on the same note, but you could do it."
Nash: "I didn't believe it either…"
Crosby: "He's quicker than most normal human beings, and sometimes I forget. He is very quick. You don't want to play Mumbly-peg with him, he'll steal your leg!"
Graham Nash then goes on to explain the origins of the song "Right Between the Eyes".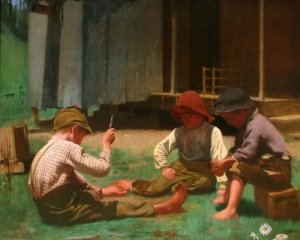 What is Mumbly-peg? 
Mumbly-peg is a game that is actually talked about more than it is played. The purpose of the game is to toss a knife into the ground with the aim to land it with its point in the ground. If the participant loses, the opponent hammers a peg into the ground, which the loser must draw out with their teeth. There are several intercollegiate Mumbly-peg teams, the most famous of which is the Toothless Trouncers of St. Miniver's, Winnipeg. In one year alone, they came out 15 and 3, with only minor dental surgery required during off-season.
What is the song Neil Young has performed most in concert?
"Heart of Gold" from 1972's Harvest is Neil Young's only number one hit single in his long musical career. The song, on the surface, seems to be a plea for the redemption of all-conquering love. With James Taylor and Linda Ronstadt singing backup, the song was a made for radio hit waiting to happen. And amazingly, the song continues to be among the most requested and performed song in concert.
How did the Stills-Young tour end in 1976? 
From a fan: "Neil bailed on Stills in the middle of the 1976 Stills/Young tour. After a gig in South Carolina, there was a review where the writer said Neil sang badly. Stills went to Atlanta for the next gig. While he was waiting for Neil to show up, received a telegram that said something to the effect of "Funny how things that start spontaneously end spontaneously. Eat a peach, Neil".
He (Neil) later blamed it on his throat. Stephen was given no notice.
What does "Eat a peach" mean?
When Duane Allman was tragically killed in a motorcycle accident he had run into the side of a truck carrying a harvest of Georgia Peaches…hence the name of the Allman Bros album Eat A Peach. Since then people have used the saying for things coming to an end.
But other people say the expression comes from TS Eliot's poem "the love song of J Alfred Prufrock" which contains the line 'Do I dare to eat a peach?' Perhaps peaches can be quite messy to eat and a lot of the juice might end up on your shirt (therefore you'd need to be brave enough to risk being messy when you eat a peach)?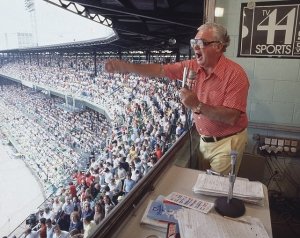 The CSNY2K tour: what is the story behind the song "Take Me Out To The Ballgame"? 
CSNY have turned the short break between 2nd and 3rd sets, where they didn't leave the stage, into their own version of the 7th inning stretch.
The song itself has been around for ages. Over the years, the tradition developed that the crowd at a baseball game would stand up and stretch at the seventh-inning mark of a (usually) nine-inning game. The tradition was spurred on by a guy named Harry Caray, who was the voice of the Chicago Cubs baseball team and who is the guy in the video that is played during the concerts. One of the big cable TV super-stations is WGN out of Chicago. This station covers the Chicago Cubs baseball games religiously. At every game, Harry would lead the crowd in singing "Take Me Out To The Ball Game". It was his "signature". From coast to coast, people became familiar with Harry Caray because of this cable-TV coverage of the Cubs game.
When Joe Vitale and Mike Finnigan were fired, who told them?
Before the CSNY2K Tour actually started, Jim Keltner replaced replaced longtime CS&N cohort Joe Vitale. Another CS&N hand, keyboardist Michael Finnigan, was dismissed at the same time because Neil Young felt their playing made the sound too busy and thick. The task of telling the old friends they were out fell to Graham Nash, who said it was not an easy thing to do.
Graham Nash: "It was very tough to let Vitale and Michael Finnigan go; they've been part of our band for 20-odd years. And it was very tough; personally, it was very, very hard to make that call. But musically, I understand completely. And within a week, Neil had been proven right. We needed space. When you bring a Neil Young guitar into a band, you better be able to hear it…So it was a very tough call. I believe they took it with the spirit in which it was meant. It was not personal; it was purely musical. And once again, Neil's instincts were correct".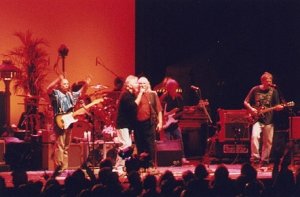 On the subject of the Tour Of America, what was written on the wall behind? 
It's just a bunch of photocopied sheets of paper.  Some are missing people fliers from September 11th.  Some are pictures of Steve Pott's (the CSNY drummer) pretty doggie.
Why doesn't Graham Nash wear shoes on stage?
Graham Nash: "It gives me a sense of being more completely grounded."
Why is an European leg of a CSNY tour difficult?
David Crosby: "It's because the expenses almost triple coming over there with CSNY  would take a 747 load each way just for the sound and lights let alone the band gear and then there's the jets to move the people. None of us is exactly happy about riding commercial these days. It may happen anyway but the USA has more $$$ in the market and we can travel in our busses which is how we like to do it"
Why are the ticket prices so 'high'?
CSNY doesn't set the tour prices. The tour is purchased by a national promoter who determines venues, pricing, etc. Putting on a show like that is a very, very expensive event. Think of it as a bargain though. It's the same price as Buffet or Matthews but for 4 times the music, 4 times the rarity, and 4 times the talent.
David Crosby (2012): "Unless you have a really huge hit you don't make money off of records, we make money off of live performance almost entirely."
How does Nash feel about people bringing cameras/smartphones to shows? 
Nash: "It's disturbing to me, because they're not concentrating on the music. They're concentrating on the happening, the event of it, rather than the music."
ALBUMS
Who is that man in the window on the cover of the first CS&N album?
The man in the window on the cover of the first CSN album, is Dallas Taylor. Taylor (CSN's drummer) was pasted in later. Dallas Taylor: "Originally, on the 69 album it was Stephen's idea to put me on the back of the album. However, the building was torn down before we could go back to re-shoot the photo, so, the photo was taken at David Crosby's back door, and pasted into the doorway photo that already existed."
Where exactly were the photographs taken of the CSNY albums? 
Check out the section Everything CSNY > Famous Places and you'll find quite some interesting spots.
Who is the photographer of the Déjà Vu cover? Tom Gundelfinger or Tom O'Neil..?
Tom O' Neil/Gundelfinger (in approx. 2000): "I took my wife's name 18 years ago when we decided to have a family. Gundelfinger is still listed in the phone book, and all my LA connections have managed to locate me after all these years. I worked with a lot of rock and roll groups, and had a career in the 60's in LA in the music biz".
The atmosphere represented the Civil War era. Who's idea was it to do it this way?
Dallas Taylor to 4waysite.com: "The cover was Stephen's idea. He was a big Civil War buff.
To whom did the dog on the cover belong?
Dallas Taylor: "The dog wandered into the picture accidentally and we kept the shot. We still don't know where the dog came from, or who he or she belonged to. Stephen called it 'Fred'".
What was Stephen Barncard's role on Déjà Vu?
Stephen Barncard: "For the most part, I was the ASSISTANT on most of the sessions, and when Bill – Halverson – wasn't there, I had to be 'the man'. I ended up recording  the track for 'Helpless' and 'Country Girl', and the overdubs on 'Teach Your Children', when Bill was having 'problems' elsewhere.. This is the era when assistants weren't considered that important (even though we got paid a lot more in those days compared to today), and not worth nothing in credits".
What was the story on that giraffe on Stephen Stills' first album? 
According to Henry Diltz, the photographer who took the photo, only Stephen knows and he's not talking. Diltz thinks it was a kind of secret message to someone. He said that he started snapping photos of Stephen playing and that suddenly Stills jumped up and ran into his cabin and brought out the giraffe and said that Diltz could start snapping again. After a few shots, Diltz suggested that they lose the giraffe and Stills said basically "no way." Bill Haverson: "The giraffe was a gift from a woman. I'm not sure which one."
There was a poem on the back cover. Who wrote it?
Charles John Quarto. The poem was titled A Child Grew Up On Strings." It did indeed appear on the back of the first Stephen Stills solo album. You can see him on some footage included on Journey Through The Past when Stills is walking with his guitar on his shoulder. Nash produced an album of poetry for Quarto.
A child grew up on strings
And was pulled through New Orleans
He had to grow so he grew wings
Although he was a turtle in blue jeans
A child grew up on strings
And he flew into an impression
That was left after each session
Just to reach through to the troupes
And his shell songs were heard
Because the wind is always acoustic
Or the child grew into a bluebird
Because he grew into his music
And as he grew in he grew out
Angels praise the word both
After he flew in he flew out
To grow he had to with growth
Even when it grew wild
The child was growing even more
Knowing that was what growing was for
It takes a man to be a child
And so he worked to play with his friends
And they played to stay with him
And so they stayed to play with him
The family song that never ends
A child grew out of every hotel
That ever held him from his home
Like a turtle hides a turtle in his poem
So did this child grow out of his shell
Still growing up on his strings
Flowing from the pack but growing with them
Some days he goes away with his rhythm
But every night he comes back and he sings
The same way he sang out in the south
The same way that any shell disappears
From a name famous for so many years
He sang his fears out of his mouth
A child grew up on strings
He is a kind lamb to lovers
And a fine kingdom of other things
Even though he is a turtle under these covers
What did David Crosby say at the end of "Cowboy Movie"?
Stephen Barncard: "I think it's Michael Shreve talking; he played the tambourine. It could also be the 'clap' track, and several of the guys did that".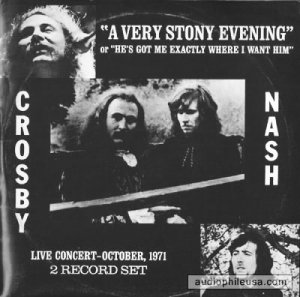 Is the Another Stoney Evening CD the same as the A Very Stony Evening boot?
Stephen Barncard: "No. Same tour, different evening. The boot was recorded the second night in Berkeley 10/15/71, ASE recorded 10/10/71."
What are the Abandoned Albums? 
Albums which were either recorded or planned and then scrapped:
DAVID CROSBY
– Might As Well Have A Good Time (1980).
STEPHEN STILLS
– No title (1970): Stephen Stills, (Eric Clapton?) and Jimi Hendrix. "Old Times, Good Times" was the first try at that album after Stills' first solo album. Stills and Hendrix were going to go back to England and do that album, but then Hendrix died.
– Southern Cross (1980): Stills did with Barry Beckett at Rudy Records Studios for, and rejected by, CBS – his record company at the time – prior to "Daylight Again."
– Stolen Stills (197?). Stephen Stills: "That was just a bunch of songs I ended up not using over the years. I'd either run out of room on a particular album, or they weren't quite up to snatch. I'm going to have to take some time off one of these days and go through all my old tapes again and figure out what's there".
GRAHAM NASH
– Earth & Sky (1980): this album was originally planned as a C&N album.
NEIL YOUNG
– Bus Crash (year?): album with unreleased stuff but some songs might have been used on Re*ac*tor.
– A Live Acoustic/Electric album (1970/71).
– Home Grown (1974).
– Chrome Dreams (1977): Neil Young: "What Chrome Dreams really was, was a sketch that [David] Briggs drew of a grille and front of a '55 Chrysler, and if you turned it on its end, it was this beautiful chick…I called it Chrome Dreams." In 2007 Neil Young released Chrome Dreams II which is a sequel to Chrome Dreams.
– Ranch Romance (1977).
– Island In The Sun (1982).
– Old Ways 1 and 3 (1985). Old Ways 2 was the released album.
– Times Square (1989): Young performed intense live shows packed with new songs and set to release a searing rock record, Times Square. But at the last minute, Young opted for Freedom, an album calculated to make everyone rave "come-back." The Times Square sessions – his best work in a decade – got dumped on an import EP that's already out of print.
CSNY
– Human Highway (1973): this was the (working?) title of the album to be released from two late May 1973 Hawaiian CSNY reunion sessions (on Crosby's schooner and in a beach house at Lahania on the island of Maui, rented by Young) which were resumed in 1974 on Young's Broken Arrow ranch following their triumphal reunion tour of that summer. Typical tensions within the band (while trying to finalize the album in December 1974, Nash and Stills got into a fight about a harmony part to Wind On The Water, causing Stills to slash Nash's master tape to pieces and Neil splitting the scene) aborted the project and left the album unfinished. Many of the songs that were meant to be on the LP had been previewed on the 1974 tour.
Source: bluesonline.weebly.com.
– Long May You Run (1976): briefly Long May You Run looked to be the awaited CSNY reunion album. However, Crosby and Nash departed the project to focus on what would become their 1976 album Whistling Down the Wire, Young and Stills reacting by removing the duo's vocals and other contributions from the master tapes. It was finally released with only Stills & Young.
STILLS & NASH
– Daylight Again (1982): was finally released with Crosby content.
What is the virtual track listing of the abandoned Human Highway album?
Here we go, but bear in mind that most of the tracks would have been left out (but, what an album could it be):
"Little Blind Fish" (written by CSNY – recorded at Neil's ranch)
"Homeward Through The Haze" (DC)
"Time After Time" (DC)
"My Angel" (DC)
"Carry Me" (DC)
"Love Story" (SS)
"As I Come Of Age" (SS)
"Myth Of Sisyphus" (SS)
"See The Changes" (SS – recorded at Neil's ranch)
"Taken At All" (GN – was written later and recorded at the CSNY sessions in Criteria, Miami that became Stills/Young)
"You'll Never Be The Same" (GN)
"Another sleep Song" (GN)
"Wind On The Water" (GN)
"Prison Song" (GN –  recorded at Neil's ranch)
"And So It Goes" (GN –  recorded at Neil's ranch)
"Human Highway" (NY – recorded at Neil's ranch)
"Through My Sails" ( NY – aka Sailboat Song)
"Love Art Blues" (NY)
"Pardon My Heart" (NY)
"New Mama" (NY- aka "Mellow My Mind"?)
"Hawaiian Sunrise" (NY – aka "Maui Mama")
"Pushed It Over" The End (NY)
"Love Is A Rose" (NY – remake of "Dance, Dance, Dance")
"The Old Homestead" (NY)
Why did it take so long until the second CSNY album "American Dream" was released? 
It had started with a promise Neil Young made during a 1984 radio interview, where he'd vowed to record again with Crosby, Stills and Nash if David Crosby succeeded in conquering his now fabled addiction to free-base cocaine. Three years later Crosby had achieved just that and Young was left with no alternative but to deliver on his word.
What are the 'lost songs' of Looking Forward?
According to our notes, the record originally featured:
– "Half Your Angels" (Nash)
– "Liars' Nightmare" (Nash)
– "Lost Another One" (Nash)
– "Try To Find Me" (Nash)
– "Acadienne" (Stills)
– "Feel Your Love" (Stills)
– "Everybody's Talkin'" (Fred Neil)
– "Turn, Turn, Turn" (the Byrds)
– "Navigator" (Allan Thomas)
– "Rock and Roll Woman" (Buffalo Springfield) – with Joe Walsh on guitar!
– "White Line" (Young)
-"Good To See You" (Young)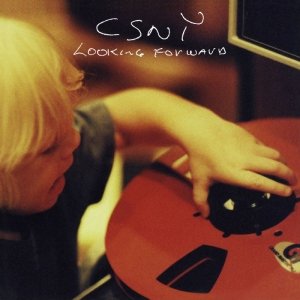 Who is the boy on the cover of Looking Forward? 
It is Henry Stills, Stephen Stills' son, at age three.
What was the working name of the CD Looking Forward?
"Heartland". Neil Young thought "Heartland" would be confused with a few other songs and commercials that had similar titles or themes.
Graham Nash: "We just thought that 'Looking forward' would be a better idea. 'Heartland' was the working title."
Is the cover of the '77 CSN album, the Mayan?
No, it is not David Crosby's boat The Mayan.
David Crosby: "It was the boat of a friend, the Mayan is even prettier".
Why did it take over a decade since Stills' last solo album, to release Man Alive!?
Stephen Stills: "I would make the mistake of playing [songs] for the other guys, and they would pick the three or four best songs and say, 'Hey, let's make a new CSN or CSNY album!' Five projects later, I finally said, 'No, you can't hear it'".
Man Alive! was released in 2005.
And what about Graham Nash's silence?
Nash had a simple explanation for avoiding the solo format for so long.
Graham Nash: "I enjoyed being a member of a band. I've always preferred being a member of a band than being a solo artist".
In 2002 he released Songs For Survivors.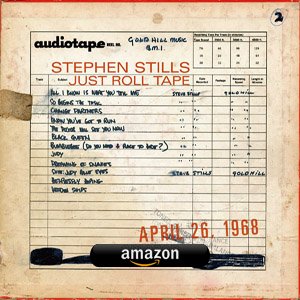 Is it true the date on Stills' release Just Roll Tape, is not correct? 
All of the stories and press releases for Just Roll Tape tell the story about how on April 26th 1968 Stills asked the studio director for an extra hour to record these songs. But if you look in your Buffalo Springfield box set book you will see that the Buffalo Springfield played in Arizona on April 26th and 27th and was in Tennessee on the 24th. Maybe the date is wrong or something, but there is no way he was in New York during that BS tour…. Sometime in 1968, the exact date is still a matter of some conjecture, but it was either during Stephen Stills' last days with the Buffalo Springfield, or later that same year, uh, either way it was before he and Crosby had persuaded Nash to leave the Hollies and form CSN, anyway, uh, where was I? Oh yes, sometime in 1968, the singer-songwriter found himself in Vietn… sorry, New York at a recording session with his then-girlfriend and muse Judy Collins. The exact date of this recording session can probably be cross-referenced by checking Judy Collins's recording schedules for that year, or alternatively you could just say it was April.
Not that it matters, it's still a great listen!