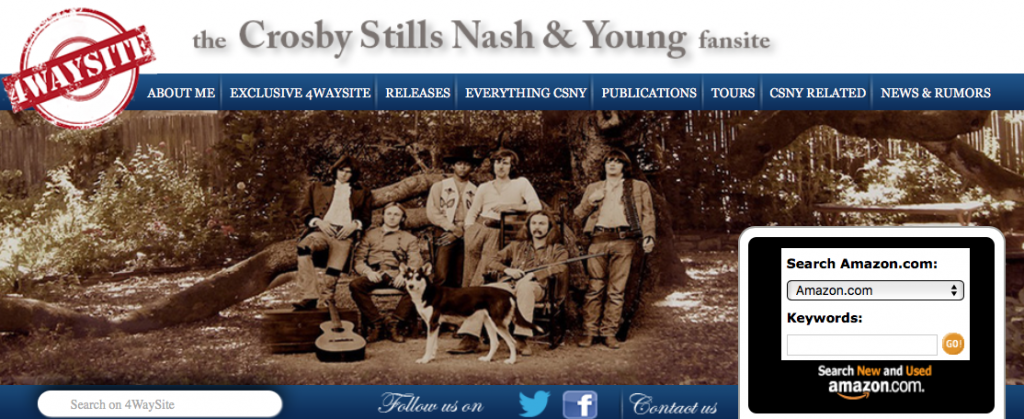 10 years since the creation of 4WAYSITE.COM
Dave Zimmer and 4 WaySite
2007 and 2009
It is 10 years this month since the creation of 4 WaySite. I would like to celebrate this milestone by thanking you all for your support, messages and input into the forum. The site, like the four individuals we love, has had its ups and downs, but survived to tell the tales and to promote the music. Let's hope that over the next 10 years there will be more stories to tell and more brilliant music, old and new to celebrate. Another outtake by Dave Zimmer of an interview with yours truly….
Dave Zimmer: What is it about Crosby, Stills, Nash and Young, collectively and individually, that continue to hold your interest and enthusiasm?
Dolf van Stijgeren: Their music has no expiry date. In the early 70s when I was a young hippie influenced by older sisters who had older boyfriends, I "secretly" listened to 4 Way Street when my parents wanted me to sleep. I must have been the inventor of the so called mondegreen (the mishearing – usually accidental – of a phrase as a homophone or near-homophone in such a way that it acquires a new meaning) because I sang things like "Hello movie in the dark" (Real Lyrics: Hello ruby in the dust) and "And they've changed him into a chair" (Real Lyrics: And they've chained him to a chair). I still do enjoy listening to this great live album as well as Déjà Vu, but I am also a great admirer of Crosby's more recent work such as CPR. Not to mention their live performances that are still as fresh and enjoyable as ever. Their secret is both simple and obscure: they are open to new influences (like CPR's jazz) but stick to their folk rock roots. Oldies are notorious for not liking change and as long they are not going to experiment with rap music, I shall continuously enjoy listening to CSNY in all their forms!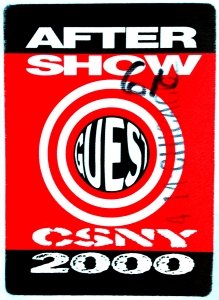 DZ: What is the most rewarding aspect of creating and running 4waysite.com?
DvS: When CSN were in New Zealand by the end of 2007, a New Zealand fan hung around the back after a show and got to talk briefly to Graham Nash. He took the liberty of saying that "Dolf from 4waysite.com says hello." Graham replied that I am a good man and that he keeps in touch with me. New Zealand is from our European perspective right on the other side of the planet, but I felt the warmth of that remark. The internet is everywhere and connects people.
In the process of writing "Since Then: How I Survived Everything and Lived to Tell About it" I had been contacted by co-writer Carl Gottlieb. I suggested that fans should be able to ask questions through 4waysite.com. Carl (and David) agreed, many questions raised and – according to Carl Gottlieb who I am more than willing to believe – much of the book's content was suggested by the questions. 4waysite.com is mentioned in the book's Acknowledgements section as being "extremely useful" to Croz and Carl.
Let me not forget the reactions from fellow CSNY fans. The following took place in Chicago during the CSN2YK Tour. I was standing at a bar wearing my 4waysite.com T-shirt when someone approached me and said "Hey, I check this site every day"! So, it's the appreciation that both fellow fans and CSNY show, that I find most rewarding.
DZ: What is your all-time favorite CSN/CSNY personal moment?
DvS: Prior to the CSNY2K Tour I innocently forwarded someone else's message to Graham Nash with a request. He almost literally replied "Why don't you come to Chicago"? So, he promised two tickets for the Chicago concert and I flew from Amsterdam to Chicago in April 2000 with Jeroen Mol a friend of mine and former website manager of 4waysite.com, but without tickets – the only thing I had was his word… I had to pick up the tickets at the Will Call window of the United Center by 6 PM. The man at the Will Call windows was absolutely not interested in me and told me without blinking his eyes, there were no tickets… at the moment. The only thing I could do was walk rings around the huge statue of Michael Jordan and wait for some good news. I never felt so small and dependent. 7PM: nothing. But at 7.30PM he carelessly said "Hey, Nash-guy, I think I got two tix for ya"! I noticed someone wrote Graham Nash's initials on a sticker but I did not realize what it was. We enjoyed the concert and afterwards we were guided backstage to a kind of a waiting room with about 20 nervous fans. Then someone mumbled a Dutch-sounding name and my friend Jeroen and I were asked to follow him backstage down under the catacombs of the United Center. And there he stood, Graham Nash, and spontaneously hugged me. Needless to say, that is my favorite CSNY moment. Back in Holland I read a review of the Chicago concerts by none less than Steve Silberman (contributing editor of Wired magazine, but that is something I did not know in Chicago) and he mentioned "The witty Dutch guys" he met backstage. That was the icing on my Chicago cake and it was fun indeed.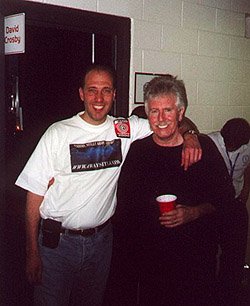 DZ: How do you think the CSN/CSNY story will ultimately end?
DvS: I am convinced they will get (even) more recognition in the future. Just compare it with good painters such as Rembrandt and Vincent van Gogh. They shall write music and perform as long they physically can. We know Crosby, Stills and Young's health wasn't a bed of roses along the way, so let us hope it will last as long as possible because I feel their story is still unfolding.
DZ: 4WaySite has become the "go-to" online destination for unfiltered news and views about CSN&Y. How have you managed to keep the content fresh and engaging over the years?
DvS: First the news. You wont believe it, but 10 years ago I wasn't sure about creating the section "News & Rumors." But then something happened that unleashed the power of my imagination: the CSNY2K Tour! As if CSNY wanted to help me

. Another example is the section "Discography"; Neil especially keeps me rather busy. But wait, what about the Tours section? Never a dull moment with CSNY and plenty to update. My favorite sections are the "FAQ" and the "Pick of the Month" with some interesting exclusive interviews.
It takes a lot more work than most people are aware of. I don't do it all by myself and would like to take this opportunity to thank Jeroen Mol with whom I literally designed 4waysite.com in the sand of a beach and started 4 WaySite, John Collins, Vicky, Margaret, you Dave and.. all the visitors.
DZ: All CSN&Y fans owe you a standing ovation for a decade of outstanding work. What motivates you to keep the site rolling at such a high level of quality? Where do you and 4 WaySite go from here?
DvS: Thank you for the kind words, Dave. As long as people like you find new things by visiting 4waysite.com, I am happy. As long I get unexpected compliments, I carry on. I remember in Chicago in 2002, just before a CSNY show while I (innocently) wore my 4 WaySite T-shirt, a man next to me said "Hey, I know that site". I said with a grin on my face "Well, it's mine" and he said "Wow, I can't believe I am sitting next to the 4 WaySite website manager." I am down to earth, but I experienced a few seconds of fame, although that grin must have lasted a little longer and comes back every now and then.
As for the future, I have quite a few ideas, but encounter two enemies: time and the size of the site (over 900 pages!). I am using old HTML website techniques which makes it difficult to use modern features. But nevertheless, we will try to make it possible for people to react to the news in the News & Rumors section.
And finally to raise a corner of the veil: I would like to have personal CSNY stories from fans, insiders, musicians, etc. that I might post some day.
Dave, thank you for the opportunity to engage in this interview and for your ongoing support.
And to all the loyal CSNY fans who visit 4waysite.com: thank YOU!