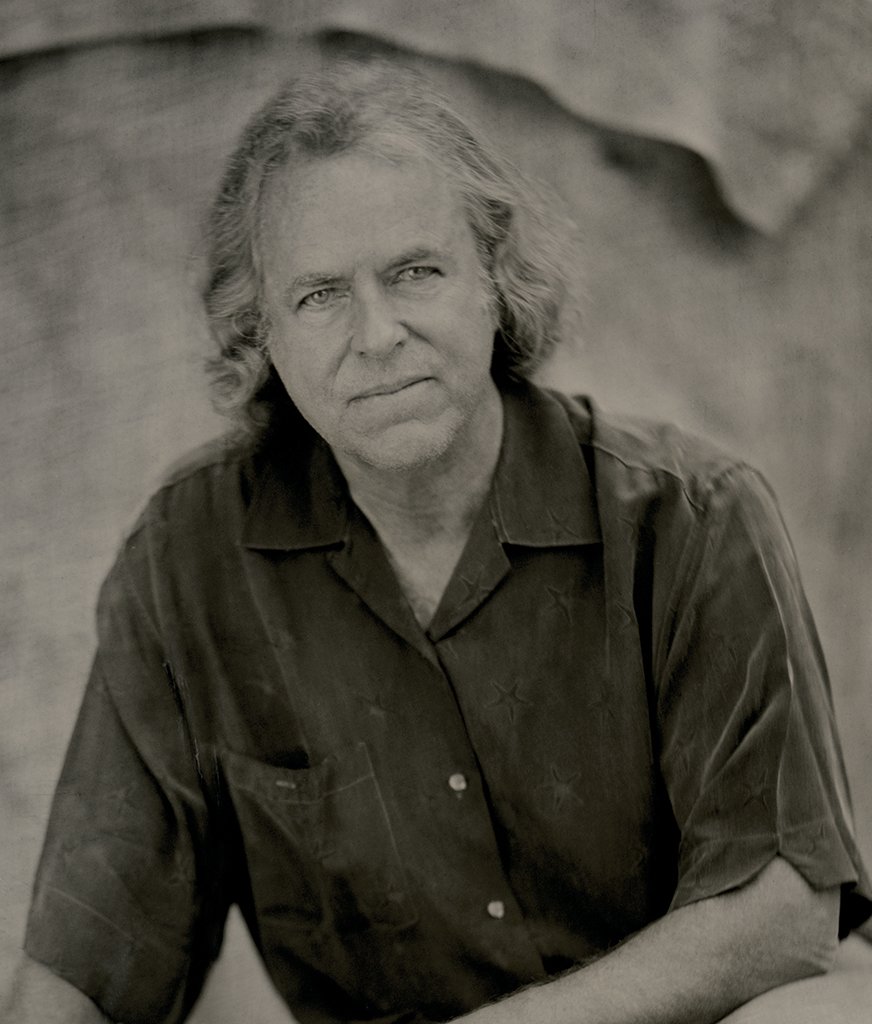 4Waysite
By: John Kwit, Dolf van Stijgeren and Dave Zimmer
Date: August 2010
Most people know Rock and Roll Hall of Famer Graham Nash, also a gifted photographer with a keen eye for the surreal whose photographs have appeared in solo and group exhibitions in museums and galleries around the world, and in books such as Eye to Eye: Photographs by Graham Nash. But only those intimately associated with Nash and CSN probably know R. Mac Holbert, a longtime friend and former business associate of Graham's and a former CSN tour manager.
Together, Nash and Holbert pioneered fine art digital printmaking and in 1990 helped to build the world's first fine art digital printer — from a $126,000 IRIS 3047 proofer and a vacuum cleaner borrowed from Holbert's wife, Ruthanne. To learn more about Nash Editions and Holbert's other fascinating adventures, including insights into his 40-year association with the CSN (&Y) family, read on:
NASH EDITIONS
4WS: Mac, before we talk about you, CSN, and other aspects of your life and work, I would like to ask something about your name. You go by the name R. "Mac" Holbert, but what is your real (first) name?
"Mac" Holbert: My legal name is Roy MacNaughton Holbert. I was always called Mac from the time I was an infant.
4WS: I understand you recently left Nash Editions. What were the reasons and what are some of your most happy memories of the times spent there?
MH: In March 2010 Graham wanted to take Nash Editions in a new direction and I took the opportunity to leave to start a non-profit organization, The Center For the Image with two colleagues of mine, Henry Wilhelm of Wilhelm Imaging Research and Stanley Smith, director of Imaging Services at the Getty Museum in Los Angeles. It will provide me the opportunity to share the experience and knowledge I gained at Nash Editions. Nash Editions is now being run by Graham's son Will when he is not on the road handling Graham's tours.
The happiest times at Nash Editions were those moments when it became clear that we were an important element in our client's artistic life.
4WS: What exactly is The Center For the Image?
MH: The Center For the Image is a non-profit organization that provides a resource center for cultural heritage institutions as well as individuals focused on the preservation of analog and digital photography. We provide consulting, digital acquisition and print on demand services.
4WS: Can you please describe how an "ordinary" day for you looked like at Nash Editions?
MH: I wore many hats at Nash Editions. I was chief imaging specialist, scanner operator, trouble-shooter, computer technician, artistic consultant and the go-to person when clients needed to complain. I usually spent several hours on the phone and many hours preparing images for printing.
4WS: Three years ago you published Nash Editions: Photography and the Art of Digital Printing. This seems to be the magnum opus on digital printing. Can you tell the 4waysite.com visitors what is so special about it?
MH: For me the book is very special. I definitely did not want to do just another Photoshop book. I have always been more interested in what artists do with the tools as opposed to how they do it. I wanted our book to be a celebration of art and not process. On that level I think we succeeded. Garrett White of Five Ties Publishing and I put the book together with the help of his staff who worked tirelessly acquiring the rights for around 175 images. I'm very proud of our effort!
MUSIC
4WS: Did you get started in the music business and how old were you at that time?
MH: My first experience with a band was when my high school roommate, Alex Call started a band, The Urthworms in
1964. Alex later went on to great success as a songwriter – the composer of "Jenny Jenny" for Tommy Tutone and "The Power of Love" for Huey Lewis. I started hanging around bands in 1966 in Santa Cruz, CA where I was an art major at the University of California. I was 18 at the time and Santa Cruz was a hot bed of psychedelic music. Whenever possible I headed up to San Francisco and frequented the Family Dog, The Avalon Ballroom, Winterland and The Fillmore. Some of the bands I saw: The Dead, Jefferson Airplane. Moby Grape, Sons of Champlin, Big Brother and the Holding Company, It's a Beautiful Day, Tim Buckley, Jim Kweskin, Quicksilver Messenger Service, The Youngbloods, Country Joe and the Fish, Dan Hicks and His Hot Licks.
4WS: Did you have a passion for the arts (music, photography, literature) at an early age?
MH: Definitely! My mother was a poet and an art lover and I spent many hours on her lap as a child looking at art and photography books.
4WS: How did you get your foot in the door with the CSNY camp? Was this in 1970?
MH: In 1969 I started to make the first of several visits to New Mexico where several of my closest college friends had set up a commune outside of Albuquerque. In September of 1970 I was hitchhiking from New Mexico to Santa Cruz when I was picked up by CSN&Y production manager, Steven Cohen. Steven had been the Production Stage Manager at Woodstock and was on his way to the west coast to stage-manage the Big Sur Folk Festival. We had a leisurely trip back to Santa Cruz and when he dropped me off he offered me a job the following weekend at the festival. I leaped at the opportunity and did everything I could to show Steven I was a solid, reliable employee. That job led to a Crosby/Nash Tour in the spring of 1971 where I was an assistant truck driver and go-fer.
4WS: What are some of the earliest duties they had you responsible for?
MH: Early on I did everything I was asked to do from running out and buying strings to helping tear down to tuning guitars.
4WS: Were there any characters that were part of their road crew or managerial crew at that time? Did anyone document these early days on film?
MH: The personalities that I remember best were Jimmy Deluca, the head truck driver, Leo Makota the tour manager and Bob Sterne, the head of the sound company. All three had been involved in touring for several years and lived colorful lives on and off the road. Jimmy was a serious biker, Leo had hung with the Hell's Angels in San Francisco and Bob was a bear of a guy – also into motorcycles.
Although I had a love of photography at that time the rigors of road life precluded me from any serious documentary work. Joel Bernstein did take occasional backstage photos but by and large that period of time was not well documented.
4WS: What did you do during the intervening years (1971-1973) before CSNY got back together again? What work did you do on any of their solo or duo albums?
MH: Shortly after the Crosby/Nash Tour I was asked to Road Manage Jane Fonda and a troupe of actors (including Donald Sutherland) on a 6-week anti-war world tour of U. S. Army bases. I ended up being responsible for the travel and coordination of close to 80 people. I returned the day after Christmas 1971 and in early 1972 I moved to San Mateo, CA where I shared an apartment with Leo Makota . Leo was handling affairs for Graham and sometimes Crosby and he hired me as an assistant. This lasted for about a year. At this point Graham asked me move to San Francisco to act as his assistant. Leo continued to oversee the remodelling of Graham's house and acted as Tour Manager until 1974. Leo died of a heart attack 5 or 6 years ago.
4WS: How would you describe the making of Nash's Wild Tales?
MH: For me it was quite an exciting time. We had done a couple of albums at Rudy prior to Wild Tales (David Blue and Michael D'Abo) where I had the opportunity to watch and learn but Wild Tales was the first time I could observe the process with somewhat of an understanding of the technology. It was kind of a "dark" time in Graham's life and I think that Wild Tales was a truly cathartic experience for him.
4WS: Were you switching job duties/titles with them as the years rolled by, or did you basically have the same duties for a substantial number of years? Please describe.
MH: I started out as the assistant truck driver, then a stage roadie, then a guitar tuner, then a road manager for Graham, and then tour manager. When we weren't touring I worked with Graham's various management companies planning tours. Over the years, in addition to various CN, CSN and CSNY projects, I managed tours for Poco, America, Dwight Twilley, Peter, Paul and Mary and Carole King.

4WS: For someone not in the managerial or touring business, describe the process for even coming up with the idea for a tour. Generally speaking, for CSN, did it start with a spark or a call from one of the three of them to go out on tour?
MH: Many elements came into play. Money obviously had its part. Ultimately though the music had to be there. Even it was going out to play old songs they had to feel a musical connection or else it would have flown apart.
4WS: Did one of them call you and ask for an opinion, or call the others first, or is this a manager's decision, based on offers from promoters, etc.?
MH: I was never involved in suggesting a tour. That usually came from either one of the principals or from agency/management. Once the idea of a tour was finalized I did participate with the managers and agents in the routing and details of the tour.
4WS: Were you with the group in Hawaii when CSNY tried to record an album in 1973? What memories stand out?
MH: I was in Hawaii just prior to them getting together. I ended up falling off a waterfall and completely turning my kneecap into mush. I was flown home to San Francisco where my brother the doctor picked me up and took me to the hospital in Santa Cruz where they operated on me the next morning. I was in a full leg to hip cast for 8 weeks of recovery.
4WS: When the idea for playing large stadiums came up for the 1974 CSNY tour, whose idea was it? Bill Graham's? CSN or Y?
MH: I can only give you my impression of where it came from. I think it was an idea conceived by both Elliot Roberts and Bill Graham.
4WS: With the concept in hand Elliot sold it to Neil who then suggested it to CSN who jumped at the chance to play again as CSNY.
What particular moments stand out from that 1974 tour?
MH: I remember how over the top everything was. Two limos parked in front of the hotel 24 hours, a separate 24 hour suite for the band – complete with food and drinks, private jets and helicopters, amazing backstage catering! So much money was spent keeping the band comfortable. I think Elliot and Bill were concerned that if everything wasn't perfect it would fly apart. Neil traveled completely separately from CSN in a tricked out RV and they only saw each other at the gigs. I think the moment that stood out for me was the night Richard Nixon resigned from the presidency. The crowd went bananas!
4WS: Crosby has often called the CSNY '74 tour "the doom tour?" Why do you think he has described the tour in that way?
MH: Well…once again only my observations and opinions. Everybody was well taken care of during the tour but with so much money being spent and none of it being Elliot or Bill's there wasn't a lot left over for CSNY after all the bills were paid. Nash said it best in Wind on the Water's "Take the Money and Run".
4WS: Some of David & Graham's most inspired work came after the 1974 tour, with Wind on the Water and Whistling Down the Wire. Who was responsible for selecting the studio musicians for these albums? What role did you play?
MH: I learned early on to stay out of the music unless I was specifically asked for my opinion. They definitely didn't respond well to suggestions from someone who they perceived as being non-musical. I helped set up the sessions and helped to file all the paperwork involved.
4WS: Rolling Stone ran a cover story in 1977 covering The Honest to God Reunion of Crosby, Stills and Nash. What was going through your mind when you realized the three of them were getting back together? What role did you play, if any, in bringing this about?
MH: I kept out of it. I didn't discourage it. The chemistry among them is so volatile that any little thing could cause it all to explode. If it was going to happen it was only on their terms. There was a lot of management prodding from the sidelines but ultimately the three of them had to work it out.
4WS: In 1977 CSN recorded a new album and toured extensively. Was this a happy time for the band in general? They seemed to hit another creative peak at that time. Would you agree?
MH: I do agree. They seemed comfortable with one another on a level I hadn't seen before. I think they all realized that together they were something greater than in any other configuration. They hung with one another like I hadn't seen them do in the years I had known them. And in that they rekindled a sense of their early creative forces.
4WS: Speaking of the 1977 CSN album: the cover photo (that was not taken on David's boat the Mayan, but another boat). Why did the record company use two different photos for the cover?
MH: I have no idea.
4WS: And speaking of the Mayan, what are your favorite memories of that boat? What exotic locales did you set sail for and what was the experience like?
MH: Although I was on the Mayan on several occasions the 10 days I spent on her in 1973 were the most memorable. Graham and I and several others joined David and his girlfriend for food, wine music and diving. The most memorable event was one late afternoon Crosby and I took the small powerboat into Lahaina to get groceries. We loaded up the small boat and headed back to the Mayan. One of the mooring ropes on the front of the boat fell into the water. One end was attached to the front of the boat and the other end floated to the rear where it proceeded to become entangled in the rear propeller and cause the engine to accelerate and turn the boat in high speed tight circles. Well we spewed groceries all over the harbor until David was able to kill the engine. Nobody got hurt and we recovered most of the groceries intact. It did get my adrenaline flowing!
1980s
4WS: What do you remember about the building of Nash's original Rudy Records recording studio in San Francisco? How did Leo Makota figure into this process?
MH: Leo acted as the contractor. He hired all the sub-contractors and kept on top of the construction on a day-to-day level. The studio was a combination of great technology and beautiful artistry. There was gorgeous carved wood everywhere. Graham spared no expense and Rudy Records ended up being a great experience for the eyes as well as the ears.
4WS: What was the scene like at original Rudy Records and when Nash moved his studio to Crossroads of the World in Los Angeles?
MH: Once Graham married, his bachelor days definitely came to an abrupt end. The studio and the associated traffic it attracted was not conducive to his new family life. Graham began to search for another location to house the studio. His Los Angeles based managers, John Hartmann and Harlan Goodman located a vacant space at Crossroads of the World on Sunset Blvd. Don Gooch, Rudy's chief engineer, oversaw the move and within several months Rudy Records was L.A. based.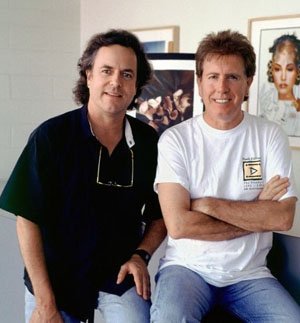 4WS: At one point, Stills and Nash had cut at least the rough tracks for a duo album but it got rejected by the record company because of the absence of David, later becoming Daylight Again. Was that the closest working relationship you witnessed between Stills and Nash? In your opinion, why haven't they collaborated on that kind of level since then, either in the studio for an album, or on tour?
MH: That collaboration started out great and ended up badly. I think that drugs and alcohol were largely responsible for the turmoil. It was interesting to see the initial chemistry that the Stills/Nash collaboration spawned. It all came to an end late one night with a huge fight over a guitar part or a vocal part – I can't remember exactly what started it. Graham had the tapes locked up and Stephen attacked the storage closet with a screwdriver and got in and destroyed the tape with a razor blade. Graham asked me to get him out of the studio, which I did.
4WS: Were these events discussed later on?
MH: I don't have any specific knowledge as to whether or not they discussed it afterwards. If they did it would have been out of character for both of them. I think that they both let time pass and then picked up where they left off.
4WS: In the early to mid 80s you were with CSN during some of the very leanest years of their existence (a lack of creative material and a host of drug induced problems). How did you keep them focused or even together for that matter?
MH: In 1979 I moved to Los Angeles and began working full time with Graham and David's management firm, Hartmann and Goodman. Crosby was in Mill Valley, Graham was still in San Francisco and Stephen was living in the Hollywood Hills. They all were living separate lives and shared very little with one another. David was by now heavily into his drug use and Stephen was continuing his excesses. Money was probably more responsible for getting them together than anything. The only time I ever saw or spoke with David or Stephen was when we were preparing for or on a tour. John Hartmann and Michael John Bowen (Stephen's manager) handled most of the interaction with the group. The tours were hard on everyone. You never knew what condition Stephen or David was going to be in. There were nights when tempers flared backstage and I thought it was all going to blow up and end the tour. Nash played a pivotal role in keeping it all together and on most nights the audiences got their money's worth.
4WS: Did you ever feel you were going to wake up one morning and discover that one or more of them would no longer be alive? If so, how did this impact your ability to manage them?
MH: Let make it clear – I was the tour manager. My responsibilities were to keep the tour on track. This of course involved the principals but keeping them on the straight and narrow was a full-time job. Both David and Stephen had separate road managers who were responsible for getting them to the gig on time in good shape. David was the one I worried about the most. He was playing around with some very dangerous substances and seemed to be oblivious of the possible consequences.
4WS: At one point in the 80s you were Nash's charge d'affaires. What did that entail?
MH: I was always responsible for Nash. He took a lot less handling than either David or Stephen so taking care of Graham was something that I could easily do along with my other responsibilities. If you told Graham you were leaving the hotel at 3:30P he would be ready at 3:15P. Graham wasn't content to stay up all night and sleep all day so I spent much of the day with Graham wandering around visiting museums, galleries and bookstores. Once in London in 1974 Graham and I discovered a cache of early proto-photographs (camera lucida drawings) created by Sir John Hershel, the man who invented the word "photography". Graham purchased them for a relative pittance and later donated the bulk of them to the Getty Museum in Los Angeles where they were valued in excess of 2 million dollars! Graham also ended up doing most of the local publicity on tour so we also spent many hours in radio stations talking up that evenings' concert.
4WS: I understand you drove David and his band around in a far from luxurious van during his second to last solo tour prior to his Texas incarceration. We can read all about the situation in his book Long Time Gone but again, what was going through your mind during this tour?
MH: Wow! It's hard to even think about those days. I agreed to take him on the road as long as he made a real effort to deal with his drug problems. I was surprised every morning to find him alive. I did my best to keep the tour receipts out of David's hands by sending it back to his accountant as often as possible. I kept in touch with Graham and as the tour came to an end we decided that an intervention was crucial. I knew he was too far gone to help himself. It was a real low time for all of us.
4WS: Did you ever worry that you, yourself, might end up in jail or worse for associating with him?
MH: You know, I never worried for myself because I wasn't involved on any level other than acting as his road manager.
4WS: Not to dwell on the negative but Graham has mentioned in many articles that the last straw for him with David was the infamous crashing pipe scene (an amp's vibrations caused David's pipe to fall to the floor and break – which David felt the need to retrieve rather than continue jamming). What was the last straw for you?
MH: The last straw for me was one night in Pittsburgh when David was experiencing withdrawals during a show and left the stage in the middle of the concert and came backstage to the dressing room where I was sitting on the couch going through receipts. He stormed in and screamed, "Get off the fucking couch". I leaped up and he assumed a prone position. I sat down across the room from him feeling slightly stunned by this sudden intrusion. Then the door opens and Stephen storms in, walks over to the food table, picks up a 5 gallon container of ice water and proceeds to walk across the room and dump the entire contents on Crosby's head. He then threw the empty container aside, yelled at Crosby, "Get your fuckin' shit together!" and exited. I'll never forget the pitiful looks on David's face as he sat trying to understand what had just happened. He looked like a drowned alley cat. He slowly dried himself off and eventually made his way back to the stage where he finished the show. I knew at that point that he no longer had any control over his addiction. All three of them had always felt a tremendous responsibility to their audience. David now felt a greater responsibility to his addiction.
4WS: Where were you when David turned himself in to the FBI in Florida? Again, what was going through your mind as manager?
MH: I was living in L.A. working with David and Graham's new manager Bill Siddons. Bill flew to Dallas to help with the situation. I had declined that tour because I knew David wasn't serious about cleaning up. I do remember mixed feelings – I was concerned for David and happy that I had made the decision not to take him on tour. I also remember feeling that perhaps this would be the only solution for David to get clean. Nothing like a year in jail to help convince one to change their ways.
4WS: Did you correspond with David while he was in prison? If you did, what was his mindset?
MH: I did not correspond with him although I did get frequent updates through the office. I think he was pretty miserable initially but he eventually found ways to cope.
4WS: David points to Neil's promise to play again as CSNY, IF David stayed clean and sober, as one of his reasons for staying straight. In 10 words or less, describe what Neil Young means to you… and again in 10 words or less, what Neil means to CSN….
MH: My take on Neil – Unique, Genius, Focus, Committed, Dedicated, Loyal, Clarity, Artist, Passionate, Spontaneous
His importance to CSN – Vision, Nucleus, Center, Discrimination
4WS: Discrimination…?
MH: The quality of being discriminating; acute discernment; as to show great discrimination in the choice of means.
4WS: What do you mean by "choice of means"?
MH: Neil is a man of discriminating taste. He chooses musical directions and options with great care and precision.
4WS: Describe your personal and business relationship with Neil.
MH: I never dealt with Neil on a business level and only had a friendly relationship with him. He always treated me with respect and was a pleasure to be around.
4WS: The late 80′s found CSN touring and recording in various forms and the 1988 CSNY album American Dream was released. What is your opinion of this long anticipated reunion album? Was this a case of simply being unable to live up to the hype and expectations of music critics or a ravenous public?
MH: I think the relative lack of success was due to the major rifts that had developed between them all over the years. It was easier to talk about doing music together than actually doing it. The quality that defined early CSN and CSNY was the coherent sense of purpose and shared vision. When they stopped relating as friends and came together mainly as business partners, the clarity of their shared vision became muddied. All of them are great musicians but "American Dream" lacked the authority of their earlier efforts.
CSNash Additions
4WS: Let's shift gears for a moment and talk about your relationship with Graham. You partnered with him to found and run Nash Editions – the first digital printing operation of its kind. What motivated you to break out of the managerial role in music and shift gears into the world of photography and digital printing?
MH: I was an art student in college and always loved photography and the graphic arts. Graham and I shared a lot in what we valued in life and I enjoyed his friendship. The rigors of the road and the personalities I was forced to deal with on a day-to-day basis eventually began to wear on me. I had gotten married in the mid 80's and had a daughter. I began to realize my babysitting responsibilities with CSN were getting in the way of my family. I was looking for a way to transition out of the music business. I liked the music part – it was the business that turned me off. In the late 70's I had introduced Graham to digital imaging and he and I spent a lot of time investigating different ways to output digital files. In those days there weren't a lot of options. In 1988 Graham discovered a printer that was capable of creating digital prints that rivaled traditional photographs. He ended buying one of these printers ($126,000) to create his own work. He soon realized that the printer was an expensive piece of equipment to have lying around unused for months at a time and he suggested that we form a company to offer digital printmaking services to other interested photographers and artists. I jumped at the chance and did my last show in Saratoga, CA in late June 1991 and moved my family to Manhattan Beach, CA one week later where we opened Nash Editions on July 1, 1991.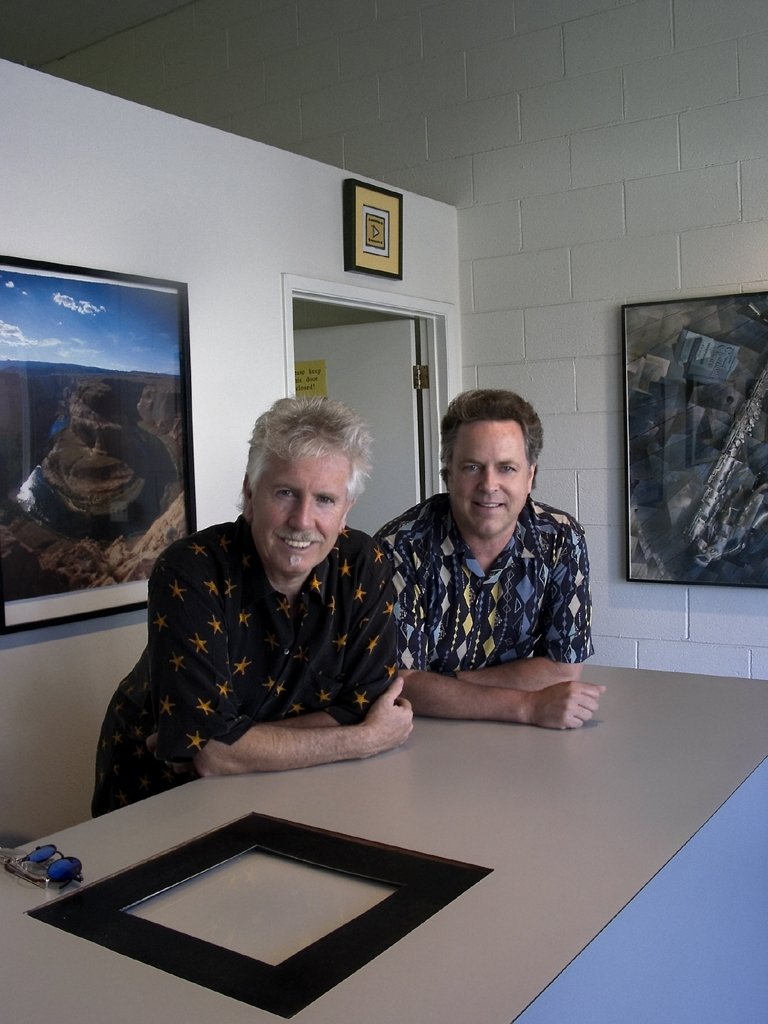 4WS: What role did you play, if any, in Grahams early exhibition of photographs (1978: de Saisset Art Gallery and Museum at the University of Santa Clara in California) and fine art (1990: Parco Stores in Tokyo, Japan – the first exhibition ever of digitally produced fine art)? Did you play a role on the sale of his photography collection by Sotheby's in 1990?
MH: I helped a lot with the acquisition of many of the images in his collection but had little to do with the de Saisset show. His wife Susan and Graham's curator, Graham Howe were mainly responsible. The Parco Exhibition I had much more involvement with, mainly in the selection of the final images and the hanging of the show. The Sotheby's sale was handled by Graham's friend, Charles Wehrenberg. He negotiated the final deal with Sotheby's and oversaw the auction.
4WS: What role did you play, if any, in Graham's 1996 work on Life Sighs (a theatrical performance shown in Philadelphia) or his 1990 television show, The Inside Track, which featured recording artists answering studio audience questions and performing?
MH: I was integrally involved with the Life Sighs project in the beginning but I felt that not enough preliminary work was being done. I saw the entire effort being more about the technology than about the very interesting life my friend had lived. I felt that several of the key individuals involved were taking advantage of Graham and wasting vast sums of money so I slowly extricated myself from the situation. The Inside Track on the other hand was something that I worked on from the beginning to the last of the 13 episodes. I helped write the questions and was a voice in Graham's ear during the actual taping suggesting questions and prompting him.
4WS: You were on the Board of Directors for Graham's Manuscript Originals, which sold limited edition, hand signed lyrics by noted musical artists. What was that experience like?
MH: A very frustrating experience. It was a great idea but it needed Graham as a full-time figurehead. Someone to reach out to the artist and help publicize the company. His life was very busy with family and music and although he gave what he could it didn't prove to be enough and the company was finally taken over by Graham's son Will 3 years ago. To be honest, I don't know what success he's had with it since.
4WS: CSN are in the studio on and off cutting a series of songs written by performers they love, Jackson Browne, Bob Dylan, the Grateful Dead, Tim Hardin. Rick Rubin is the producer. It seems to be taking an incredibly long time to make. Is this a case of trying to be too perfect?
MH: I know they are all keenly aware that you don't attempt to cover a classic unless you are prepared to honor it by giving it your all. Over the years I watched them reluctantly include cover songs into their set list. They never attempted to do so unless they knew they had it nailed. "Blackbird" is a perfect example. They bring themselves to their rendition. I suppose there is some of that going on. Also CSN has NEVER been known for their ability to quickly and efficiently navigate the recording of an album.
4WS: Not to simplify the process, but one would think that getting the three of them around a single microphone, strumming an acoustic guitar or two on songs they love would not be an arduous process. There can't be that many false starts/stops or off-key takes, can there?
MH: I don't think they originally even knew how to play many of the songs they're working on. I know Joel Bernstein was hired to help create the arrangements and to show them how to play the songs. It's one thing to know the proper notes and another to give the performance the proper "CSN Treatment". Also they may have spent hours on a particular song only to find out that for whatever reason it's just not working. You know I really think they're more concerned about honoring the original than they are about making it perfect.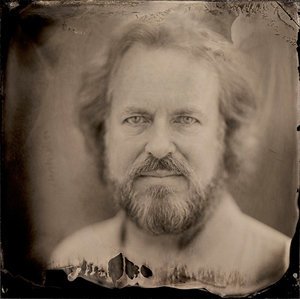 4WS: Obviously the music industry has changed significantly since the dawn of CSN. From vinyl records and reel-to-reel machines, from cassettes and 8-tracks, from CDs to MP3s and iPods and file sharing. Considering the average age of CSN and Y, how will they survive financially in this age of file sharing?
MH: They're going to have to find new ways to access their core audience. There are still a lot of us around but technology has eclipsed the capabilities of many in that age group. Live performance is one way they can survive but who knows how much longer they can do that? It's a challenge to survive in the music business no matter what your age.
4WS: The technology has obviously changed, but from a managerial perspective, how have the fans changed, if any over the course of the years?
MH: The demographics of the fans have changed as the audience has grown older along with the group. They do attract a significant number of younger fans which is tribute to the quality and timelessness of much of their music
4WS: I may be wrong, but the number of young female groupies throwing themselves at the band MAY have tailed off, but what about those fans hoping just to catch a glimpse of the band, or the honor of getting an autograph. How has that scene changed?
MH: You've got to remember – I left the road in 1991! They always have had very adoring but respectful fans. I think that has a lot to do with they way the generally treat their admirers.
WOODEN SHIPS FOR SALE
4WS: I never thought I would see the day when David would put his beloved Mayan up for sale. Can you provide any insight on why he did this and has it sold?
MH: Nope – this is the first I've heard of it. But I'm not in frequent contact with any of them any more.
4WS: Have Graham, Stephen or Neil started parting (selling) things off from their personal collection that you are aware of?
MH: I haven't heard any rumblings about that.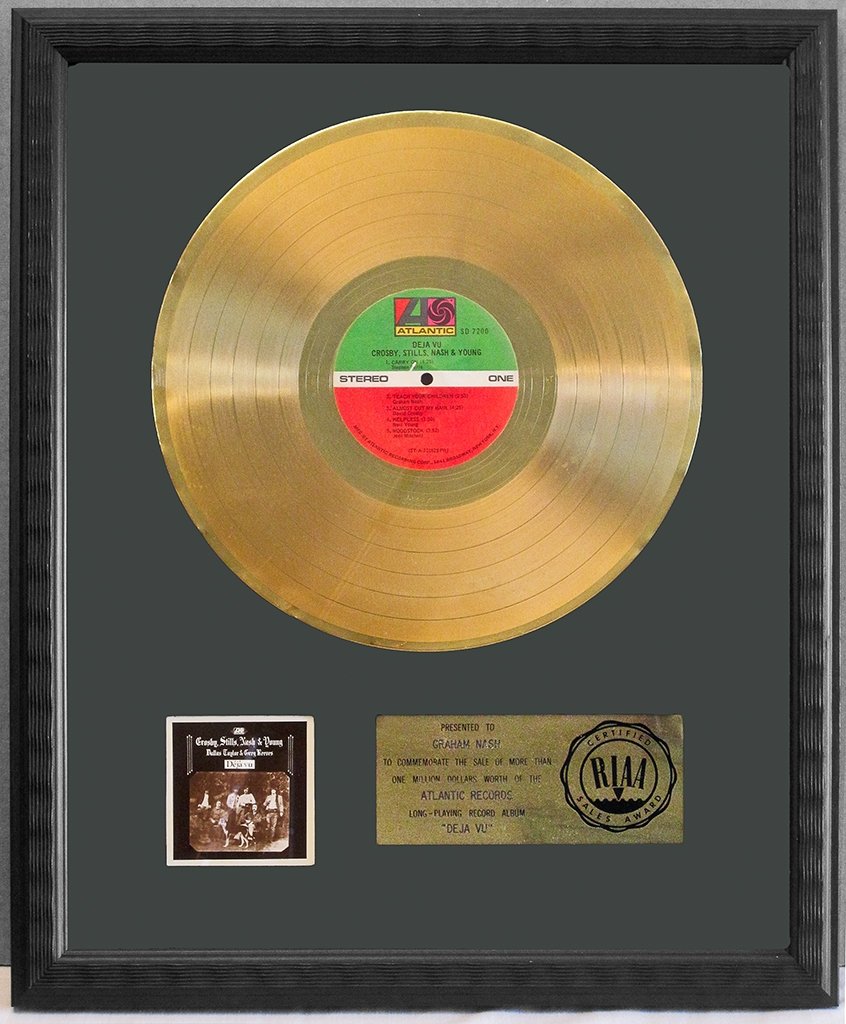 4WS: How about yourself? Anything special tucked away in the basement that may soon see the light of day for CSNY collectors?
MH: Oh yeah! I collected EVERYTHING I could – almost from the beginning. Graham helped me immensely by giving me objects that normally never get out of their own private collections. I have numerous gold and platinum records given to Graham, concert tickets, backstage passes, laminates for all the principals, signed songbooks, albums, tour itineraries, programs, handwritten set lists, demo tapes, acetates, tour jackets, t-shirts – you name it, I've probably got it. If any of your readers are interested they can contact me at [email protected]. I will then direct them to a website that outlines the collection. I'm only looking for seriously interested inquiries to purchase the entire collection. I will not sell items individually. I will be accepting offers through December 31, 2010. The minimum bid is $100,000. It's an opportunity for someone who wants to immediately acquire one of the most unique CSN(Y) collections in the world!
4WS: In the early years, the band would speak of singing and performing for "the love of the music" rather than financial gain. Yet the money rolled in. Now the financial situation seems shaky, at best, and "the love of the music" seems to be the only consistent thing left. Any thoughts on this twist of fate?
MH: That's kind of where it all started. It's the reason they had such a long career. I think they all truly love music. I saw that change a little over the years but when you get down to it it's the reason for the best of what they've done over the years. It seems to me that the times they gave too much weight to the money were the times they did their least successful work.
4WS: Do you see CSN and Y touring together, or in various combinations through their 70s and/or 80s like the great black blues players of old?
MH: Unfortunately I think health concerns will preclude another 10 years of touring but I hope they prove me wrong!
4WS: Do you think we might see a reunion of older incarnations: Manassas, Stills-Young band?
MH: I doubt it. I think that they all would rather use whatever future energy they may have to pursue projects with CSN and possibly CSNY.
4WS: If you could do it all over again with CSN, what would you do the same? What would you do differently?
MH: I probably wouldn't have stuck around as long as I did. It was fun for a while but after the first 5 years I started feeling unfulfilled making others look good. I think I would have liked to spend more time pursuing my own creative aspirations in photography and sculpture.
4WS: If you could sum up your take on each member of CSN and Y with three words each, what would those words be?
MH:
Crosby – Innovative, Charismatic, Punk,
Stills – Mad, Distracted, Genius,
Nash – Constant, Enthusiastic, Anchor,
Young – Vision, Passion, Clarity.
4WS: A standard 4waysite.com question: what is in your CD/MP3 player or iPod now?
MH: The Tallest Man on Earth, MGMT, Tift Merritt, White Stripes. The Strokes, Animal Collective, Lucinda Williams, Brandi Carlile, Steve Earle. I rarely go to major concerts anymore. I find they lack the intimacy I prefer. I'd rather catch some unknown, quality performances at a small venue. I recently saw an amazing guitar player, Ian Ethan, at a local venue here in Ashland, OR – very reminiscent of Crosby's solo work.
4WS: What are your passions outside of work?
MH: Photography and my son. He's 14 and music is his only reality. For the past two years he's been passionately playing guitar. He has a band, The Didacts, and has already started doing small gigs around town.
4WS: Back to the future and my final question: what's your current motivation, your next goal?
MH: I hope to have my non-profit, The Center For the Image up and successful in the next two years. I want to give back to the cultural heritage world and help to preserve the images of the past for future generations.